Furor over Buddhist retreat center near Cazadero
BY GUY KOVNER, THE PRESS DEMOCRAT, July 19, 2014
Santa Rosa, CA (USA) -- Bright yellow flags flutter in the breeze over a large metal building in the coastal hills of northwest Sonoma County, miles from urban hubbub and lights. In Tibetan Buddhist tradition, the banners are supposed to release prayers for peace and compassion into the world.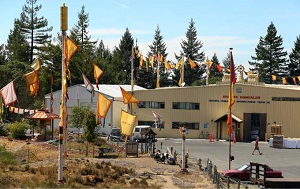 << The Dharma Publishing facility, at the Ratna Ling Retreat Center in Cazadero, on Monday, July 14, 2014. The campus includes a structure containing printing press operations, and warehouses storing sacred texts.
(Christopher Chung/ The Press Democrat)
Inside the half-acre sized steel building, presses run 12 hours a day, churning out sacred texts bound for the Himalayan region to nurture the Buddhist culture devastated by China's invasion of Tibet in the 1950s.
Volunteers operating the presses at the Ratna Ling Retreat Center conduct a ceremony around a gold-colored stupa, a monument symbolizing the mind of the Buddha, and wash their hands before beginning work each day. A sign along the private road to the printing plant advises: "Banana Slug Crossing Be Aware."
But the site, despite its reverent mission, is the source of angst reverberating in the redwoods of Seaview Ridge, a bucolic community of homes and ranches above Salt Point State Park, 90 minutes by car from Santa Rosa.
Ratna Ling, welcomed by most residents a decade ago when it took over a 100-acre site on Hauser Bridge Road where a high-end commercial resort had been planned, is now resented for the growth of its publishing arm, introducing what critics consider an "industrial operation" into an area designated for the preservation of natural resources and rural living.
"Ratna Ling is a company town," said Bruce Johnson, a sculptor who lives and works on Seaview Road, aptly named for expansive views of the Pacific Ocean. If it paid wages instead of depending on volunteer labor, the tax-exempt Buddhist-owned operation would have a "million-dollar payroll," he said.
But the issue isn't money; it's about a controversial land use decision and the threat of wildfire in the drought-parched woodlands, where an all-volunteer fire department defends a 48-square-mile area with the closest mutual aid agency a half hour away.
"A lot of folks are very upset about it," said Dennis Meredith, chief of the 20-member Timber Cove Fire Protection District, based on Seaview Road four miles from Ratna Ling.
Fire was a major issue during a contentious, four-hour public hearing on Ratna Ling's updated use permit before the Sonoma County Board of Supervisors on June 24. It culminated in a 3-2 vote to approve the permit, rejecting Timber Cove's request for a $375,000 fire engine and a $150,000 addition to its station to accommodate the vehicle.
Instead, the board majority — Chairman David Rabbitt and Supervisors Efren Carrillo and Mike McGuire — accepted Ratna Ling's offer to pay the fire district $2,500 for training and buy its own fire engine, which the retreat center since has acquired. Supervisors Susan Gorin and Shirlee Zane were opposed.
The use permit approval, now final after more than two years of consideration, brought no peace to Seaview Ridge. A citizens' group called Coastal Hills Rural Preservation is considering legal action, said Johnson, a member of the organization's steering committee.
"We're not just NIMBYs, honest," Johnson said, citing support from three environmental organizations — the Sierra Club, Friends of the Gualala River and Sonoma County Conservation Action — that also objected to Ratna Ling's printing plant. "It's industrial land use. There are industrial risks."
Black and yellow signs posted along Hauser Bridge Road call for "no industrial printing in rural Sonoma County," adding "no exceptions."
Inga Grace of Novato saw the signs on her way to a retreat at Ratna Ling and wondered, "What kind of place are we going to that is being targeted so unkindly by others?" she said in a letter to the Board of Supervisors prior to the hearing.
Hers was one of the glowing endorsements of Ratna Ling's work from county residents and people as far away as New Hampshire and Holland. "We are saddened by the lack of tranquility that exists between the neighbors," wrote Nick Canelis, general manager of a Cazadero engineering firm that has worked with area residents and Ratna Ling.
The retreat center came to Seaview Ridge in 2004, when the Berkeley-based Tibetan Nyingma Meditation Centers bought Timber Hill resort, once designated for transformation into an exclusive resort and spa with a helipad for superwealthy guests paying up to $2,400 a night. The facility was renamed Ratna Ling, which translates as "jewel crest" in Sanskrit.
Just beyond an elaborate entry gate stands Ratna Ling's lodge, a cedar and stone building with rust-colored metal roofing that houses a dining hall, with an adjoining yoga room, library and spacious meditation room with two revolving prayer wheels. The manicured grounds include 14 airy guest cabins with stunning views of the surrounding hills.
About 20 members of the Ratna Ling community live and work there, and guests — dubbed "retreatants" — come for retreats ranging from a weekend to two-weeks, primarily for yoga instruction, with classes available in meditation, Buddhist thought and vegetarian cooking. Individuals also can rent a two-bedroom cabin for $175 to $200 per person per night for personal retreats.
All the food is vegetarian; a buffet lunch last week included grilled orange tofu, basmati brown rice and stir fried vegetables, all vegan and gluten-free. Eating vegetarian saves millions of gallons of water a year, according to Ratna Ling's list of green credentials, which include an organic garden, composting, recycling, cork floors and interior walls finished with clay instead of paint.
Most guests come to "relax and be quiet, (to) take a deep breath," said Rosalyn White, Ratna Ling co-director. Buddhist materials are available, but there is no proselytizing. "People can take it or leave it," she said.
There are few wineries nearby and no night life, "unless you count the raccoons," White joked.
Some people come as volunteers to work on printing and storing the sacred texts during brief retreats or on a six-month commitment.
Asked why Ratna Ling has engendered such controversy, Tina Wallis, the organization's attorney, said: "It's land use. There are many different perspectives."
"I don't think it's a culture clash," said Johnson, whose redwood and copper sculptures are on display around the country and in Spain, Italy and Taiwan. "It's a health and safety issue."
A resident of the area near the center who asked not to be named said he doubted the same concerns would be raised over a Christian organization.
Most of the rub lies on the other side of Hauser Bridge Road, where the 21,234-square-foot pale yellow metal building that houses Dharma Publishing's six printing presses is flanked by two storage structures, called "Sacred Text Treasuries."
Visitors can step inside them all, but no photographs are allowed, Wallis said, "for religious reasons."
The presses turn out a limited number of English titles, but mostly they print Buddhist religious texts in Tibetan on acid-free paper that is trimmed, dyed dark orange around the edges and hand-wrapped in matching orange cloth.
The texts are mainly from the Kangyur, the Tibetan Buddhist canon supposed to have been spoken by the Buddha himself about 2,500 years ago in India. Buddhism spread throughout Southeast Asia and the Orient, and was established in Tibet by the 7th Century A.D.
China's invasion in the 1950s led to the destruction of 6,000 Buddhist monasteries, libraries, schools and museums and forced about 100,000 Tibetans into exile in India, where they remain. Ratna Ling ships the texts produced in the Sonoma County hills to about 3,300 institutions in India, Nepal and Bhutan, where the Tibetan exile community is "keeping the culture alive," White said.
The Buddhists' arrival initially was a "great relief" to the Seaview Ridge community, saving it from the onslaught of wealthy retreat visitors coming in by helicopter, Johnson said. A Coastal Hills Rural Preservation assessment of Ratna Ling says that its book-printing effort is "nothing but laudable," but belongs in an urban area.
In 2008, the retreat center bought a four-wheel drive fire engine for about $280,000 and donated it to the Timber Cove fire department, a step that Meredith, the fire chief, said was a "wonderful gesture."
But the community's affection began to wane almost immediately as Ratna Ling, according to the citizens group, violated the conditions of its 2004 use permit by moving two additional presses into the Dharma Publishing building, where only one was permitted. The printing plant also increased its hours of operation, number of workers and produced as many as 400,000 books a year, exceeding the permitted limit of 100,000 books, the group alleged.
Wallis said the press production level stemmed from an "unfortunate misunderstanding at the time," owing to the Tibetan culture's view that a book can consist of multiple volumes, like an encyclopedia.
She disputed the other allegations, citing a county planning official's testimony at an April supervisors meeting that the county set no limit on press equipment and asserting that Ratna Ling adhered to the limits on operating hours and staff size.
County planning officials investigated all of the citizens group's complaints and issued no notices of a violation, Wallis said.
Carrillo, whose district includes the retreat center, said Ratna Ling has "taken each and every complaint seriously and offered a solution."
The use permit approved in June indirectly limited press output by allowing Ratna Ling one truck round trip per day, six days a week. It also boosted the maximum occupancy of the printing plant from 27 allowed in the original use permit to 60 people, except for June and July when the limit is 80 people.
The new permit also made the four text storage structures, totaling nearly 40,000 square feet, permanent rather than temporary, triggering much of the debate at the June 24 supervisors' hearing.
County officials concluded the tent-like storage buildings "do not pose an enhanced fire risk," according to the board's resolution. The buildings are covered with a fire-resistant membrane and are equipped with sprinklers, the county said. Ratna Ling officials noted that the storage buildings are surrounded by at least 200 feet of cleared "defensible space."
Former Timber Cove Fire Chief Michael "Zippy" Singer insisted that the text storage buildings were a hazard because his department lacked the equipment and training to fight a fire in one of them. His opinion, which conflicted with county fire officials' assessment, prompted Carrillo to question whether Singer had a conflict of interest in his role as fire chief and a member of the Coastal Hills group opposing Ratna Ling's permit.
In an interview last week, Singer said he quit the citizens group to avoid a conflict but also said he should have been able to continue in both capacities. "We're in America here; you do have the right to protest," Singer said.
Singer, who joined the Timber Cove department in 1973 and served as chief for the past 25 years, retired about two weeks ago, turning over the chief's hat to Meredith. His retirement had "nothing to do with it (the Ratna Ling controversy)," he said.
The new use permit reaffirmed the county's determination in 2004 that the printing plant is an "accessory use" to the retreat center, making it permissible in a zoning category that covers nearly 593,000 acres, or 51 percent of the county.
Chris Poehlmann, president of the Friends of the Gualala River, said in a letter that the "industrial printing operation tail now wags the retreat center dog." Poehlmann, who lives in Annapolis, said in an interview that Ratna Ling got "special treatment" from the county.
The Sierra Club and Sonoma County Conservation Action also weighed in, asserting that the board's decision set an ominous precedent. Bill Kortum, Conservation Action's board president emeritus, said that permitting the Ratna Ling printing plant "is an unneeded industrial foot in the door to change the character" of northwest Sonoma County.
David Hurst, chief deputy county counsel, said that a use permit never sets precedent because it applies only to the specific parcel of land and the use in question. And while use permits typically "run with the land," Hurst said that prospect was precluded by a one of the more than 90 conditions attached to Ratna Ling's permit.
The condition stipulates that if the property is ever sold to a party "not affiliated with the traditions and practices of Tibetan Buddhism," the printing facilities must be "dismantled and removed."
Tennis Wick, director of the county Permit and Resource Management Department, said the new permit also removed any questions about Ratna Ling's previous compliance with county standards. "These issues are resolved," he said in an email.
Wick said he is encouraging the Timber Cove fire department and Ratna Ling to work toward a level of mutual trust.
"Right now they have a pretty damaged relationship," he said.
Meredith said he hopes to "move forward in a positive way" and forge a working relationship with Ratna Ling. But he still feels that Timber Cove's request for another engine paid for by Ratna Ling was snubbed by the county.
"We just felt like we were abandoned," Meredith said.
County officials said there was no legal justification for a use permit condition that would have cost Ratna Ling more than $500,000.
Should the citizens group file a lawsuit, hopes for a rapprochement would be dashed, Carrillo said. The supervisor said he has brought opposing factions together in other disputes, but the Timber Cove fire department and others who fought the retreat center's use permit "haven't allowed much room for compromise."
Meanwhile, Phil Eagle, whose property adjoins Ratna Ling, said he cannot fathom the furor over the retreat center. "I'm right next door. I don't hear anything. There's no trouble," he said, calling the Buddhists "the most lovely people you could ever imagine."
Eagle, a Korean war veteran and retired university professor, said he wonders why no one has asked him about Ratna Ling. Logging and gravel trucks ply Hauser Bridge Road, so a single truck into the retreat center doesn't make a difference, he said.
He scoffed at the idea that the text storage buildings, equipped with sprinklers and alarms, are a wildland fire risk. A wooden barn or shed stuffed with hay is "far more flammable," Eagle said.