Lodi Buddhist Church turns focus on listening, self-reflection
By Christina Cornejo, News-Sentinel, September 20, 2014
Lodi, California (USA) -- The Rev. Katsuya Kusunoki blew through a pitch whistle before beginning the day's sutra practice.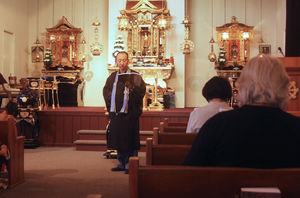 << The Rev. Katsuya Kusunoki reads from the Dharma — the teachings of Buddha — and leads people in reciting sutras at the Buddhist Church of Lodi on Sunday, Sept. 14, 2014. Christina Cornejo/News-Sentinel
Several families at the Lodi Buddhist Church sat down in the front pews and tapped their Dharma books against their heads before opening to the correct page.
"We have a lot of ministers and guests coming next Sunday, so we can show them our sutra chanting is the best," Kusunoki said.
One sutra they recited was called Shoshinge, in preparation of a visit for a special equinox service the following week. The sutra was marked in the book with musical notes and Japanese words written phonetically for everyone to follow along and repeat.
Kusunoki said the sutras are supposed to convey a sense of gratitude.
Children in the front row helped with the chanting by hitting the taiko drum on every fourth line.
The service was short, and at the end of the sutra practice, church-goers lined up before the altar to bow and pinch some incense into a burner. They clasped their hands together in gassho - a pose similar to when a Christian puts their hands together in prayer - and bowed.
Kusunoki had much to share about the teachings behind Buddhism and insight into the church.
How would you describe this church to someone who's never been here before?
There are so many Buddhist schools, but all Buddhism is based on Shakyamuni Buddha's teachings — that everything is impermanent and everything is interdependent. This church came from Japan but still following those teachings.
Shakyamuni Buddha was Indian from Nepal and India. One main point of our school of Buddhism is to reflect on myself through listening to Buddha. The Dharma is based on self-examination or self-reflection. Our school is focused on listening as most important. We do chanting, but through that we are also listening to what we say also.
What's the major difference between Christianity and Buddhism?
I didn't really study Christianity, but Christianity says that God created this world. Buddhism says Buddha is not the creator. He was a person who awakened to the truth, and is just teaching us the truth of this world. He didn't create his teachings, he was awakened to them. He taught people the truth of life and everything in this world.
When was the Lodi church founded?
We are in our 85th year. We started in 1929.
How many people are a part of the church?
We have 200 families.
Tell me about yourself.
I came here in January 2010 from Nagasaki, Japan. My father was one of the survivors of the bombing. One of the Japanese traditions is that the first son takes over the father's place. My father is a Buddhist and we were a temple family. My father is the 17th generation to take over the temple and my brother is now the 18th.
I didn't have to become a minister, but my father recommended that I do it. I wanted to go outside of Japan, and my father said there were Buddhist temples outside of Japan in the United States and Canada.
I did my ordination ceremony when I was 22 — 15 years ago — and I did another ceremony to be a resident minister. I went to three different schools to study Buddhism in Japan.