Behind the gates of Alderwood Manor's Buddhist temple
by Andrea Brown, HeraldNet.com, September 26, 2014
ALDERWOOD MANOR, WA (USA) -- A block from the big mall is a big temple. It sits behind a red gate on Filbert Road, a winding, woodsy, busy two-lane road that leads from the Alderwood mall area toward Mill Creek.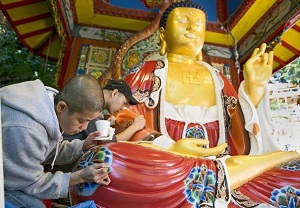 Driving by, you might catch a glimpse of ornate sculptures and colorful banners behind the gate, and maybe the smile of a Buddha in the rear view mirror.
Here's your chance to explore the three acres festooned with hundreds of statues, elaborate shrines, koi fish, lanterns and serenity behind the red gate of The Dia Tang Temple. The gates will be open for a public festival Oct. 5 for the Kuan Yin Ceremony.
The event is in honor of Kuan Yin Bodhisattva, who in Buddhism helps protect and save those who recite his name and bring peace of mind to those who are suffering.
The temple hosts about a dozen major themed ceremonies throughout the year. These include: Lunar New Year Day, First Full Moon Ceremony, Buddha's Relic Ceremony and Buddha's Birthday.
The opulent grounds become even yet more extravagant, with colorful lights, decorations and at times dragon dances.
"Each has one guest monk from another part of the country," said Minh Thanh, a Dia Tang Temple monk. "The head monk comes back for Chinese New Year.
"Everybody is welcome to attend the ceremonies.
"We're glad people are curious and come. We built this place for the people," Thanh said. "We're open to the public, to all religions. We don't care where you're from or what you believe in."
The Dia Tang Temple was built from the ground up by the monks and lay members in honor of Ksitigarbha Bodhisattva. Construction began in 1993 and took five years. It was built because Quan Am Temple, founded by six monks in Seattle in 1986, became so crowded that more space was needed for ceremonies.
"The grand opening ceremony was in 1998, but still to this day we have people say, 'I never knew this place was here' or 'I didn't know what was going on,'" Thanh said.
"Some people say, 'Is this a Chinese restaurant?'?"
The writings are in Chinese, Vietnamese and English.
"It's a Vietnamese temple, but it has Chinese roots," said Thanh, who came from Vietnam to America as a youth and took his monk vows in 2010. "The marble statues are all from Vietnam. We practice under Mahayana Buddhism."
He and eight monks and a nun live in a Seattle temple and work at the Alderwood Manor site. There's a lot of upkeep to keep up with.
"I'm a monk who likes to build stuff," Thanh said.
That's a small part of his role. As he put it: "I really like doing the construction work on the temple and creating beautiful Buddhist sceneries for people to come and see. My real role as a monk, as well as all monks in Buddhism, is to practice the Buddha's teachings to try to escape from the cycle of rebirth. We are also responsible for educating the people on the Buddhist teachings and preserving the Buddhist sutras for future generations to learn."
The temple has an American twist and so do the monks."
In Vietnam, they always have to wear their monk clothes. Their rules are much more strict than here. Very formal. Very old tradition. No TV or games. In America, we kind of bend the rules a little. The rules are guidelines," Thanh said.
Robe color denotes the occasion."Our walking clothes are dark orangish brown. When we do ceremonies we wear the yellow robes," he said."When we go bowling, we don't wear our monk clothes. We wear jeans and T-shirts."
Oct. 5 ceremony for Kuan Yin
The Dia Tang Temple is at 1705 Filbert Road, Alderwood Manor.
9 a.m.: Temple opens
11:30 a.m.: Offering to the Buddha
Noon: Dharma session with guest monk
1:30 p.m. Vegetarian lunch for everybody
4 p.m.: End of ceremony
After this event, the temple will be closed until Lunar New Years. The date for that ceremony will be listed on the 2015 calendar not yet released.
For more information, go to: www.diatangtemple.org.
Dia Tang Temple history
At the beginning, there were originally four brothers and two of their cousins who became monks together and founded the Quan Am Temple in Seattle in 1986. Over the years, the small Seattle temple with limited parking could no longer support the growing crowds that came to ceremonies. The search began for a new place.
A homeowner in Lynnwood was selling his three acres of land during the time and the monks happened to come across it. At the time, the property did not look like a good place to build the temple because it was on a hilly slope and had lots of trees and weeds. However, the monks saw great potential in this piece of land. Fate took its course and the property was purchased. After the city gave its approval for turning the property into a religious site, the Ground Blessing Ceremony was conducted in 1990. This marked the beginning of the temple construction. However, it wasn't until 1993 that enough funding was raised for construction of the main shrine. The monks worked continuously for five years building the temple, which officially opened its doors to the public in 1998.
Source: The Dia Tang Temple