Palo Alto Buddhist Temple marks milestone
by Sue Dremann, Palo Alto Weekly, Sep 28, 2014
Community celebrates 100 years of faith, friendship with open house
Palo Alto, CA (USA) -- It was born out of an idea discussed in a cemetery and it grew as a place of worship for Palo Alto's Buddhist community. It became a decades-long refuge from racism for Japanese and Japanese American residents has grown into a diverse spiritual community embraced by all races.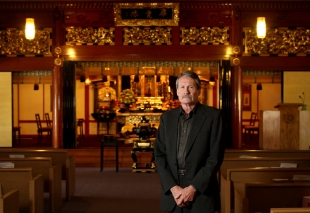 << Wayne Montgomery, president of the Palo Alto Buddhist Temple, stands in the temple on Sept. 24. Photo by Veronica Weber.
The Palo Alto Buddhist Temple, at 2751 Louis Road, will celebrate its 100th anniversary on Oct. 12 by doing what its practitioners have always emphasized as part of their faith: It is opening its doors to the greater community in gratitude and appreciation with workshops, a service, children's events, Obon dances and taiko drumming. The activities are aimed at non-Buddhists, temple President Wayne Montgomery said.
The 250-household congregation has long been the host of the annual Obon festival, a well-known celebration of Japanese culture with drumming, dance, food and bonsai demonstrations. But its inner workings and its community deeds are perhaps less known.
The Buddhist temple got its start in Palo Alto's Alta Mesa Memorial Park in spring 1914. A dozen Issei men (first-generation settlers) had gathered for a Hanami Bosan Kai, or flower-viewing ceremony. The nearest Buddhist temple was in San Francisco, and the men asked Bishop Koyu Uchida to start a place to worship in Palo Alto, according to the book, "Palo Alto: A Centennial History."
Uchida commuted from San Francisco to lead monthly services in members' homes. By 1915, membership grew and services became weekly at the Kaneda Home Laundry, which was located on Emerson Street.
Members rented a home on Ramona Street in 1925, and then purchased another Ramona residence in 1927, Floyd Kameda, past president, told the Weekly. But it was not called a temple at that time. Named the Japanese Buddhist Church of Palo Alto and later, the Palo Alto Buddhist Church, members sought to abate the prevailing racism of the time by blending in as a church.
"It was a choice to better fit in and not stand out," Eimi Okano of the Buddhist Women's Association, said.
Members continued to worship at the Ramona home until 1942, when many of the city's Japanese immigrant and Japanese-American families were forced into internment camps, Kameda said.
Fearing that its organizations would be considered subversive, temple members burned letters and documents and stored sacred articles in San Francisco, according the Palo Alto centennial history book.
Kameda recounted the stories of his family from that time: "My family evacuated to Colorado and a Caucasian woman offered her farm up for sharecropping, but a great majority of Japanese Americans were imprisoned," he said.
The internments left families penniless and shattered the congregation. But a few members returned to Palo Alto after being released from the camps in 1945 and again started gathering in homes to worship. As more returned, temple members assembled in the Native Sons Hall in downtown Palo Alto in 1946 and began the Dharma School to enhance spiritual education.
"It was difficult for people to move back. Realtors wouldn't sell to Japanese Americans," Kameda said.
Buddhism stresses compassion and wisdom, and self-examination over blaming others, and the Issei and Nisei (second generation) who were forced into the camps and who lost all of their possessions did not talk about their experiences, Kameda said. Instead, they rebuilt their congregation one member at a time.
In the post-war years and succeeding decades, they still faced prejudice. The temple became not only a place for spiritual community, but a community center as well, he said.
"In schools, students weren't allowed to participate in sports, so we had athletic activities -- basketball, baseball," he said.
Members began to discuss building a house of worship, Kameda said. They purchased an empty lot on Louis Road and constructed the current temple, which was dedicated in 1954.
"The temple started out as very strongly Japanese American. There was a lot of social interaction, and attendance of high school kids was very strong here," he said.
But as members became more assimilated and felt "more American," the temple became less of a social hub, he said. In the 1960s and 70s, young people found a voice and pushed for change, forming Asians for Community Acion and other groups. Sensei -- third-generation Japanese Americans -- pushed for redress from the federal government for those who were interned.
The temple also changed. It dropped its "Japanese" appellation in recognition of its wider, non-Japanese membership, and by the 1970s it had adopted the name Palo Alto Buddhist Temple. It dropped its Japanese-language services except for a short monthly service for older members.
The temple's demographics began a major shift starting in the 1980s. An increase in mixed marriages brought in new membership, past president Charles Dene said, as mates began joining Buddhist spouses and adopting the faith.
Today, members hold food drives and reach out in other ways to the wider community, Kameda said.
The women's group prepares food baskets and delivers barrels for the Ecumenical Hunger Program and the Palo Alto Food Closet, and they bring school supplies to East Bay communities. Project Linus makes colorful fleece blankets for children in hospitals. The Dharma School's students cook meals from scratch and deliver and serve the food at a shelter.
A good neighbor "is someone who thinks and speaks and acts in an unselfish way," Kameda said.
The temple community has tried to reflect its Buddhist teachings in its interactions with the neighborhood. The temple considered allowing a cell phone tower on the property, as other religious organizations have done, providing monthly income generated by the leases. But temple leadership decided against a tower because neighbors opposed it, Montgomery said.
The cavernous gym where teams of youth found camaraderie is more empty than in the past, and the ceiling tiles are spotted and grayed. But teams still play here, and a stage at the back end still hosts taiko drumming concerts and other events, Montgomery said.
On Tuesday, Montgomery unlocked the doors to the sanctuary, or hondo. With its ornately carved altar and incense stand, the sanctuary gave off an aura of peace.
In this 100th year, the temple and its grounds are undergoing a makeover, with plans for a new kitchen and revitalized classrooms and senior center. The sanctuary recently got its pews reupholstered, he said.
As a boy growing up in Palo Alto, Montgomery used to ride his bike past the temple and came faithfully to its annual Obon festivals; he didn't know the temple or its people. But he was drawn here, and he married a Buddhist woman and joined the faith.
"I never dreamed I would have come here and become temple president. It was just a church I came to once a year to eat chicken," he said.