Neighbors Say Buddhist Temple In San Jose Is Causing A Disturbance
By Devin Fehely, CBS San Francisco, January 21, 2016
SAN JOSE, CA (USA) -- Neighbors in San Jose are saying a Buddhist temple is causing a disturbance in their neighborhood.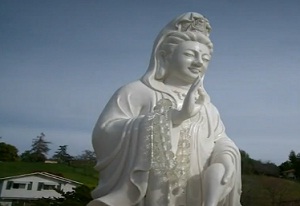 Neighbor Leonard Valverde said the area is usually quiet and serene but that new neighbors, a Buddhist monk congregation, has shattered the serenity of his neighborhood nestled in San Jose's East Foothills.
"I thought a Buddhist temple should be peaceful — should be quiet. I might even go down there myself. But unfortunately, the behavior of people spearheading that project is not an example or what it means to be a good Buddhist or good neighbor," Valverde said.
A spokesperson for Santa Clara County said the temple never had the proper permits and that the county had to go to court to stop them from holding services, as well as to tear down makeshift buildings that had apparently been illegally built on the property.
Neighbors have apparently documented the problems for years, saying that the congregation has hosted large, noisy celebrations that stretched late into the night. They also say hundreds of people, buses and cars come to the temple located on a 1.5 acre property.
Neighbor Marcy Greeley said, "It's about the land use and the disturbances to the neighborhood and the environment. It's about the inappropriate size of this congregation being plopped in the middle of a neighborhood."
A member of the congregation, who asked not to be identified, said they simply want to practice their religion and cultural traditions in peace.
Neighbors said they hope the Board of Supervisors will put an end to plans to build a permanent temple on the site, which they say has no place in their neighborhood.