Hiroshima-sparked atomic flame on way out
by CICERO A. ESTRELLA, New York Times, July 17, 2005
Nobel Peace Prize winners, celebrities cheer Buddhist monks on 1,600 mile peace march
San Francisco, USA -- Nobel Peace Prize winners, politicians, community leaders and celebrities joined 15 Buddhist monks from Japan at San Francisco's Piers 39 and 35 on Saturday to launch the monks' 1,600-mile peace march to the site in New Mexico where the atomic bomb was first tested.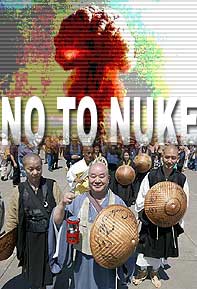 << Daijo Ohta, a Buddhist monk from Nagasaki, Japan, leads other monks and peace activists at the start of their 1,600-mile journey. SF Chronicle photo by Paul Chinn
The monks are carrying the ??Atomic Flame?? ignited 60 years ago from the burning ruins of Hiroshima. They plan to extinguish the flame upon arrival at the Trinity Test Site in Alamogordo, a symbolic gesture meant to inspire the end of nuclear weapons.
??The monks believe that good and bad happen in circles,?? said Matt Taylor, spokesman for the Global Nuclear Disarmament Fund, the nonprofit group sponsoring the walk. ??By bringing the flame back to its source, they?re closing the circle of destruction while opening a new circle of peace.??
Taylor said monks have continually walked between Hiroshima and Nagasaki for 60 years. San Francisco was the port from which the Indianapolis sailed on July 16, 1945, carrying parts for the first atomic bomb to Tinian, where a B-29 later took off on the mission that destroyed Hiroshima.
Dignitaries invited to the event included Nobel laureates Joseph Rotblat, Gunnar Westberg, Michael Christ, actor Steven Seagal and Takahashi Tanemori, a survivor of the Hiroshima bomb.
The walk is being filmed as a TV special that Seagal will narrate. Organisers are hoping to raise donations, to be used to eliminate nuclear weapons in Russia.
The Nuclear Weapons Abolition Alliance has been negotiating with Russia to sponsor the dismantling of nuclear warheads at a cost of $100,000 each.
The alliance plans to melt the scrap metal from the weapons into bracelets, to be sold around the world, with proceeds to go towards the elimination of nuclear weapons. Seagal has pledged to pay for the first nuclear weapon dismantled. - NYT