Students visit giant Buddha in Chengdu
By Alyssa Dillard, The Porterville Recorder, July 30, 2005
Porterville, CA (USA) -- After spending eight days in China, and seeing many amazing sights, it did not seem like there could possibly be anything left to see in Chengdu. However, on Wednesday the students in China visited the LeShan Giant Buddha, the largest stone Buddha in the world.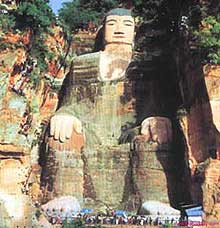 << Giant Buddha carved into rocks at Leshan, Chengdu, China
Before visiting the Buddha, the students had many other incredible experiences in or around Chengdu. On Saturday, the students toured the DuJiang Yan Irrigation System of the Qin Dynasty.

The structure of this irrigation system was far ahead of its time. Constructed before anyone had even heard of concrete, this irrigation system, originally made of weaved baskets, is one of the oldest in existence. The DuJiang Yan Irrigation System was added to the World Natural Culture Heritage List in 2000.
The students were able to tour the irrigation system all day and see the intricate ways in which it was designed. The irrigation system harnessed the water from one of China's major rivers, and sent it to different locations according to their need for water.
After visiting the irrigation system, the students then spent one whole day solely in the company of their host family. The activities that ensued were varied. Some students went swimming, others played basketball or cards, and some students furthered their appetite for exploration by visiting more of Chengdu's cultural or entertainment venues.
The next day was another full day spent at Meishi International School. The students took another Chinese language lesson, followed by a Chinese painting lesson. The afternoon was filled with a Wu Shu lesson, followed by various basketball and card games.
The students once again became tourists the following day, when they visited the age-old village of HuangLong Xi. This was a new experience for all the students and one that most will never forget.
After the students were done buying everything they wanted at the local vendors, they followed the roads to see the ancient temples built in this village. These temples were filled with candles and offerings to the Gods worshipped by the Chinese people.
The next day the students visited the mountain into which is carved the largest stone Buddha in the world. The students trekked up the mountain and down again to get in front of this giant Buddha. Nearly every student took a picture with this monstrous statue, to remind themselves of this amazing artifact.
After seeing the giant Buddha, many of the students were tired from the long, hot walk, and gladly returned to the air-conditioned bus. Other students, however, decided to continue on this hike and visit the ancient tombs and temples also located on the mountain.
The students returned from their hike, exhausted but content, and left the Buddha that was now carved as ornately into their memory as it was into the mountain.