Zen Master Thich Nhat Hanh to Visit Southern California September 10 - October 8, 2005
PRNewsWire, Aug 3, 2005
Escondido, Calif., (USA) -- Venerable Thich Nhat Hanh, who was nominated for the Nobel Peace Prize in 1967 by Dr. Martin Luther King, Jr. and is one of the world's foremost spiritual teachers, will make a one-month visit to Southern California as part of his tour of North America. Earlier this year, Nhat Hanh made a historic, three-month trip to his native Vietnam after nearly forty years of exile.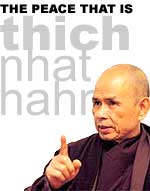 During his visit, Nhat Hanh will lead three mindfulness retreats, including one for people of color, a public talk and a peace walk. His events will begin on September 10, 2005 at the Pasadena Civic Auditorium with a lecture at 7 p.m. entitled "Remembrance and Transformation: True Security and Peace for Ourselves and the World" and end on October 8, 2005 with a peace walk at 10 a.m. at MacArthur Park. This walk is not a demonstration but an actual experience of peace in ourselves and our communities. Complete information can be found at http://www.deerparkmonastery.org.
The internationally-known Zen Master is no stranger to North America. The New York Times has written, "Among Buddhist leaders influential in the West, Thich Nhat Hanh ranks second only to the Dalai Lama."
He is the author of over 100 books on how individuals, families and communities can transform violence and suffering to create peace and joy. His best-known books include: "Peace is Every Step;" "Being Peace;" "Living Buddha," "Living Christ," and the New York Times bestseller "Anger." His recent book, "Peace Begins Here," offers a Buddhist perspective on resolving conflict in the Middle East and is based on an ongoing, retreat program for Palestinians and Israelis. Nhat Hanh's books have sold over a million copies.
In recent years special retreats have been offered for Vietnam veterans, prison inmates, ecologists, police officers and members of Congress. Nhat Hanh has also addressed audiences at the White House World Summit Conference on HIV and AIDS and the World Economic Summit in Davos, Switzerland.
In addition, 230 lay practice communities practicing in his tradition meet regularly throughout the world. He has founded three meditation centers in the United States and one in France, called Plum Village, where he resides throughout the year.