Monastic retreat home opens for Buddhist women
By Jonathan Jones, Inside Bay Area, Aug 23, 2005
Fremont center is designed specifically for ordination of female clergy
FREMONT, USA -- In a nondescript two-story house in a residential neighborhood between the Niles Historic District and Old Canyon, two women with shaved heads wearing rust and saffron robes sit on mats and meditate.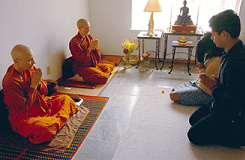 << Bhikkhuni Sucinta and Bhikkhuni Sister Tathaaloka chant for guests at their buddhist monastery. (Bea Ahbeck - STAFF)
To a visitor, the trains rumbling by, dogs barking, and loud bass thumping from a neighbors stereo may not make for the most tranquil location for the new monastic retreat home for women training to be ordained nuns, or bhikkhunis.
But, as 37-year-old Heather Burke, who goes by her Buddhist name, Bhikkhuni Sister Tathaaloka, has learned: The lifestyle of a Buddhist bhikkhuni involves finding peace and tranquility everywhere—not only in quiet and secluded locations.
Tathaaloka is one of two fully ordained female Buddhist bhikkhunis who spent much of last week turning this rented home on Essanay Place in Fremont into the first retreat home in the country specifically designed for women seeking ordination into the Buddhist monastic lifestyle.
We wanted a place for women who want a monastic lifestyle. This is a place where women can do that, said Tathaaloka, one of only two American-born women fully ordained as Buddhist nuns. Theres been a big problem for women because there hasnt been a place to do that. This is the ninth year since I was ordained, so hopefully Ive learned enough to share some wisdom with other (women).
This weekend, the new Buddhist retreat home for women held its opening blessing and open house for the neighborhood. The new home is named Dhammadharini, which means to uphold the Dharma in the feminine form, in the ancient classical Pali language of Southeast Asian Buddhism.
Although monastic life and ordination for Buddhist women date back more than 2,500 years, most of the full monastic ordination for Buddhist women died out about 1,000 years ago, she said.
But the past decade has seen an emergence of a modern revival in Southeast Asia of the ancient tradition of full ordination for women.
Although the Bay Area has also seen the establishment of numerous Buddhist monasteries and temples, none have been led by female members of the monastic clergy.
So, five years ago, Tathaaloka began working with local Buddhists, including members of the Wat Buddhanusorn on Niles Boulevard to create a home for a womans monastery.
The lifestyle and livelihood of the women in Fremont will resemble that of most classic Buddhist bhikkhunis: The women charge nothing for their meditation instruction or services.
A typical day begins at 5 a.m. with personal meditation and chanting in a sparsely furnished living room consisting of a Buddhist shrine, flowers, candles, incense, a few mats and pillows.
After a light breakfast, the women take a silent morning walk through Niles and Old Canyon with alms bowls, which are used to collect offerings of food from neighbors, before returning to the retreat home for more meditation, discussions and study.
Its our vision sometime in the future to find a place in the countryside thats a little more secluded, Tathaaloka said. This (home) may be more of an interim spot, but we may continue to use it even if we do move. Meantime, Ive trained myself to meditate to the trains rumblings.