Dalai Lama Reaches Out To Idaho's Children
By Thanh Tan, KBCI 2, September 12, 2005
Hailey, Idaho (USA) -- The Dalai Lama delivered a message of compassion Monday afternoon to an audience of thousands of children and their families in Hailey.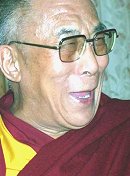 Eighteen of those children were selected from around the state to share the stage and receive a blessing from His Holiness. The lucky few either wrote essays about compassion, or were nominated by others for their acts of kindness.
Before the event, the group was ushered around the stadium for rehearsals and lunch.
Eleven-year-old Teresa Barros Bailey of Hidden Springs, whose essay was selected, said she had been anticipating the event for days.
"I'm nervous that I'm going to mess up on-stage and everyone's going to laugh at me, and then I'll throw up all over His Holiness," she said.
Thirteen-year-old Kevin Russell of Eagle, appeared relatively calm before meeting His Holiness.
"I'm not excited that we have to sing, but aside from that, it'll be pretty cool I think," he said.
As Teresa and Kevin made their way to center stage with 16 other kids, their parents waited anxiously from the field.
Kevin's mother, Michelle Russell, said she hopes exposing her son to the Dalai Lama's message of peace from a young age will help him become a citizen of the world.
"It's really exciting that as a family, we're together here," she said, with tears in her eyes. "Here's one of the greatest people on our planet meeting my little boy."
Before he was taken to a different section, Kevin received one last pep talk from his dad, Bill Russell.
"Take the spirit of the occasion into your heart. It's a very important event in your life, that you'll be able to take as you get older, when you become a father," he said to Kevin.
Teresa's mother, Mary Barros, said the process of writing an essay made for a meaningful lesson on compassion.
"After she got the call (her essay had been selected), I said, 'Do you understand why I didn't help you much?' She said, 'Why?' I said because it had to come from you, and she got a big grin on her face because she knew she had done it on her own," Mary said.
Passages from the children's essays, and stories about those who were nominated, were read aloud to the Dalai Lama, who responded by encouraging the children to seek peace and dialogue in the 21st century.
"The new shapers of the future and the planet are you-- the young children of this generation," he said. "Irrespective of whether you accept religion or not, this basic human good quality, is the foundation of humanity, and also this is the foundation of individual's happy future."
After the children left the stage, they shared their thoughts about the experience.
"It was freezing cold (from the rain), and then he came on the stage and the sun came out," said Teresa."It was like you can never feel down when the Dalai Lama is there."
About his own encounter with His Holiness, Kevin said, "It helped me reinforce what I've learned about compassion. And it's really great to meet him and I'm always going to remember this moment."
The youngest child to be honored for her compassion, was 6-year-old Katrina Smit of Marsing. The little girl is known for helping take care of her grandmother, and for not allowing her parents to kill any insects or bugs-- which she likes to name and keep as pets.
"I feel happy because I got to meet the Dalai Lama," she said, before running into the arms of her father.
"His taking the time to come here is something amazing," said 12-year-old Zach Zanders, who was nominated for taking care of his mother. "Idaho isn't one of the more recognizable states that people think about. That was amazing, not only to me but to everyone else here."
Hayden Freedman, 12, of Boise, expressed the feelings of many when she said "I'm not Buddhist and I'm not from Asia or anything, but it doesn't matter. The Dalai Lama is so important. He just exudes this positive energy."