Spiritual leaders gather to meet Dalai Lama
By MATT FURBER, Idaho Express Staff Writer, Sept 15, 2005
Religious appreciation rule of theological discussion
Ketchum, Idaho (USA) -- Humble but jovial, His Holiness the 14th Dalai Lama passed into the tent Wednesday morning for an interfaith meeting where he had previously counseled business leaders at the home of Kiril Sokoloff, north of Ketchum.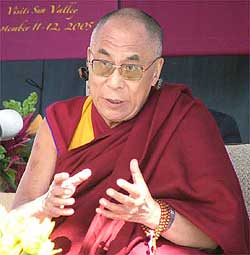 << The Dalai Lama, in Idaho, USA
The gathering of local, regional and international religious leaders capped four unique days in the Wood River Valley with the Tibetan spiritual leader promoting a message of compassion, who was hosted by Sokoloff, a prominent financial investment strategist.
Those who gathered Wednesday to meet the Dalai Lama hushed in reverence and bowed their heads to the 1989 Nobel Peace Prize winner, who has charmed and lightened the hearts of thousands here this week.
"Dear spiritual brothers and sisters, this beautiful morning I think everyone very fresh—outside very fresh. Right time to think about our deeper selves," the Dalai Lama said following introductions from the Rev. Brian Baker from St. Thomas Episcopal Church in Ketchum, who moderated the interfaith discussion. Also greeting the Dalai Lama were Idaho Gov. Dirk Kempthorne, author Karen Armstrong and Sokoloff.
The Dalai Lama explained that in his view, affection for others begins at birth, a key factor for survival, happiness and satisfaction. "(Compassion) I believe is one of the most important human qualities that come by nature."
Following a broad message on Sunday of compassion addressed to 10,000 people at the Wood River High School football stadium in the wake of Hurricane Katrina, the fourth anniversary of 9/11, Wednesday's discussion was focused on the ecumenical subject of universal compassion regardless of faith.
Speaking to the gathering of leaders from a broad range of theological backgrounds, the Dalai Lama said in his view all religions carry the same message and all traditions have the same potential to spread love and compassion.
"That is my belief," he said.
Leading the event, Baker introduced author and Nez Perce elder Horace Axtell, who sang a morning prayer in his native tongue together with two women. Axtell, of the Nimíipuu Longhouse in Lapwai, Idaho, said his people used to sing the song at sunrise asking for direction for a new day.
"We don't call it a religion. We call it a way of life," he said sharing words in his language of Numipu or Nez Perce. "We are very honored to be here."
"I believe this is holy ground," Baker said, thanking Axtell, Kempthorne and others who made the event possible.
Kempthorne for his part deflected criticism of his interest in the Dalai Lama's visit both from the government of China and from constituents who view his meetings with the Dalai Lama as crossing the traditional barrier between church and state. He said he believes in prayer and that he prayed to his God before meeting with the Dalai Lama, "not that I'd have a shield up, but that I would be able to communicate."
"As a lay person I recognize that this doesn't happen enough," he said, explaining that the interfaith meeting with the Dalai Lama in his view is a "gathering of people to listen to some wonderful words."
The Dalai Lama said often on Wednesday that communication is an answer to peace in the world, words that were reiterated by Armstrong, who also was invited to speak to the morning's theme of unity and compassion. As a former Roman Catholic nun, who has immersed herself in the scholarship of other religions, she has written the book "Buddha" and others, including one titled "A History of God: The 4,000-Year Quest of Judaism, Christianity and Islam" and another titled "Islam, A Short History."
"The Dalai Lama has seemed to me as an icon of compassion," she said as part of her introduction, which mirrored the Dalai Lama's own words that religions must lay aside their differences to embrace together the Golden Rule.
Introducing Sokoloff who in turn introduced the Dalai Lama, Baker brought an initial levity to the morning.
"As a leader of a congregation I yearn for people who put their faith in action. Some people go overboard," he said, indicating to Sokoloff that it was his turn to speak.
As Sokoloff took the podium and related a passage from "Birdsong: A Novel of Love and War" by Sebastian Faulks, the audience experienced perhaps the only glitch in the four-day event. Sokoloff was relating the story of a young soldier who at the end of his rope finally embraced his German enemy when Sokoloff's microphone failed repeatedly.
"I think ... microphone," the Dalai Lama said making a compassionate attempt to help his friend Sokoloff, who likes to use his hands when he speaks. He was assisted also by the Dalai Lama's translator, who held a portable microphone as Sokoloff finished his introduction, which he ended with a plea for universal compassion.
The Dalai Lama lectured that despite material advances in modern times, which he expects will reach the far corners of the world, there is a need for all spiritual traditions to help strengthen basic human values.
"(What is) important is not religious tradition itself ... (they) all have same foundation," he said.
Rather, he said, different religious traditions have a common responsibility to come together. He said it was a good sign that interfaith meetings seem to be happening more often.
"Very encouraging sign ... very happy to see this participation," he said.
"Once (you) accept all religions be very serious, sincere and practice. Sometimes in Buddhist (temple) some prayer --outside not much," he said making humorous faces and pantomiming as a believer who has left the temple then forgets prayer and greedily snatches at desired material goods. His description of the problem of maintaining compassion brought great laughter from the audience. "Once (you) believe, be sincere, serious. Try to implement ... we really need that."
Developing a spirit of compassion makes it easier to understand other people, easier to open one's own eyes, he said.
Baker opened the floor to questions from spiritual leaders and Armstrong.
The first question in light of 9/11 and the nation's global war on terrorism was about "people who want to destroy," and the challenge of simultaneously protecting liberty and freedom through force if need be and working toward the noble goal of raising human value.
"I think mischievous people always there," the Dalai Lama said. "Some kind of perfect world, that is impossible. Accept that reality. (For) those people who have genuine concern about humanity, make some effort--better than none."
He said if we wait for an ideal situation to engage problems, we will never begin. Anticipation of the Dalai Lama's advice was audible Wednesday. People held their breath to hear how he would respond to a question about evil in the world and how to fight it. Some made sighs of relief at his responses.
"This is true. There will be mischievous people. If (the) majority of society can rise to the challenge, (it) can be localized," he said.
Responding to a later question of whether the use of force was necessary in this century, the Dalai Lama referred to violence or the use of force as a method for dealing with problems. "Motive and goal is more important than method. Some people have the view method most important."
He said that in theory stopping violence protects those who use violence from suffering themselves. But, he added, practically speaking everything is interconnected. There is no "us" and "them." There is "only we—solve conflict through dialogue."
The audience erupted with applause.
Then, he added that he has no direct responsibility over decisions about such things as the use of force.
"I can say these things easily," he said, reflecting on what he might do if such a response was up to him. "Then, I don't know."
On the concept of evil and ill feelings towards others, he described it as an emotion with no value.
"We cannot call them evil ... next day they may become very compassionate person," he said, adding that he has always supported Amnesty International in its opposition to the death penalty. He said he believes that a person should always be given the opportunity to change.
He said that religions make a distinction between actions and the people who carry them out. For example, he said, he is totally opposed to Chinese occupation that has kept him out of Tibet for 46 years, but despite that, it is still possible to be compassionate toward the Chinese people.
Armstrong asked if violence and use of force damage the spirit.
"Oh, no doubt," he said emphatically, bringing laughter again from the audience.
What followed was discourse on anger, homosexuality, abortion and religious belief whether monotheistic, non-theistic and atheist.
In general, the Dalai Lama said he supported the teachings of religions for religious people and individual choice for non-religious people. He added that even in Buddhism, Buddha created contradictory philosophies.
"With six billion people (we) need this variety of approach," he said.
The Dalai Lama also counseled against generalizing about religions groups, including Islam--a group Armstrong said is having a very hard time in the United States.
There is bad religion at all times in all religions like bad food and bad sex, she said. She added that religion in general has done a service in keeping human values such as compassion at the forefront. It can be a catalyst for change, but is often swamped by incidental debates over controversial subjects such as those abortion and homosexuality, perverting a good thing.
The Dalai Lama recommended patience for Muslims, and related stories about how cultures ultimately overlap. He spoke of Tibetan Muslims who have carried Tibetan culture to new lives in India.
"The best culture of Tibet kept by those Muslim(s)," he said. "Basically, harmony not just smile--from heart.
"That's my view. If you agree, then support. If not agree then not argue with me," he joked.
Before departing to lead resident and visiting Buddhists and Tibetans in a ceremony nearby, he counseled people who want to practice Dharma to begin with study.
He concluded that study brings more compassion. Then, through effort one can change his or her emotions. He said eventually higher levels of consciousness will come.
"No hurry," he said, blessing and thanking Armstrong with a silk Kata scarf as he departed. Much of the discussion had involved the Christian, Jewish, Muslim and Buddhist faiths. Greeting people on the way out, the Dalai Lama greeted a young man at the back of the tent with a small ponytail and a long gown.
"Hindu," the Dalai Lama said, smiling and clasping the man's hand.