Reno's Buddhist church looks back at 12 years of growth
by Geralda Miller, RENO GAZETTE-JOURNAL, Sept 17,2005
Reno, Nevada (USA) -- Twelve years ago the Rev. Daigan Lee Matsunaga and his American wife, the Rev. Alicia Orloff Matsunaga, opened the Reno Buddhist Church. "I had four friends and two of my pet dogs sitting on a pew," he said. "That's how I started."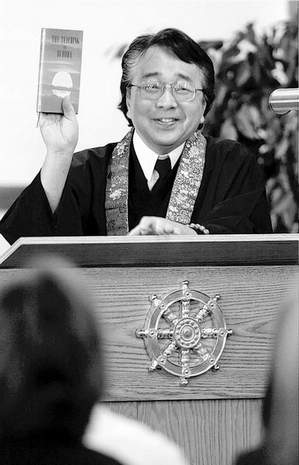 << Rev. Dr. Daigan Lee Matsunaga speaks Sunday at the Reno Buddhist Church. He is holding up a copy of the "Buddhist Bible" as he explains how it has come to be distributed in hotel rooms all over the world, like the Gideon Bible - DAVID B. PARKER/RENO GAZETTE-JOURNAL
Today, about 600 people are registered at the church just south of downtown Reno, a number Matsunaga calls "remarkable."
"So many people are interested in Buddhism," he said. "We don't knock on their doors to proselytize the faith. They're coming on their own."
They are coming to hear the teachings of Pure Land Buddhism, a form of Mahayana Buddhism that Matsunaga considers "real Buddhism."
About 70 people attended services last Sunday to hear Matusnaga talk about the 84,000 volumes of the teachings of the Buddha.
Buddhism is a non-theistic religion founded in India around 500 B.C. Buddha was the name given by his followers to a man who left a wealthy home and family in search of serenity.
Mahayana Buddhism is one of the major sects within Buddhism and is found mainly in Asia. Pure Land is its largest movement. Zen is the most well known movement in the United States.
"A lot of people think Zen Buddhism is prominent, but they are wrong," Matsunaga said.
The main teaching of Pure Land is that through understanding the concept of impermanence and realizing that there is no ego, a person reaches nirvana, a state Matsunaga called ultimate enlightenment or spiritual awakening.
Pure Land Buddhists also are disciples of Shakyamuni, the historical Buddha. What separates them from other sects is they believe people cannot reach nirvana by themselves. They follow the infinite light or life, called Amitabha.
Instead of sitting silent in meditation, they chant in Japanese called namnembutsu, which means thinking on the Buddha.
Matsunaga grew up in a Buddhist temple in Hokkaido, the northernmost of Japan's four islands. His grandfather established the Eikyoji Temple in 1900, and he followed in his father's footsteps as the third temple master.
He has a strong connection to the United States.
Matsunaga received a scholarship in 1964 to study in the U.S. and received a master's and doctorate in theology from Claremont University.
He taught cultural history and Buddhism at California State University at Northridge for more than 13 years, knowing that someday he would have to return to his homeland as successor to the temple.
"Fortunately my father lived long," he said.
Matsunaga said one of his personal goals was to ensure the future of American Buddhism. He and his wife chose Reno to do that because of its small Asian population.
"You don't have to be Japanese to become Buddhist," he said. "This is my experimental ground."
He travels to Reno about four times a year. His wife had a massive heart attack eight years ago and died.
The months he is in Japan, Matsunaga speaks to the congregation by closed-circuit television. One of his challenges is raising funds for his Reno church in Japan, he said.
"Many of them are very skeptical," he said. "They don't really quite fully understand why I'm so eager to bring the Buddhism to this country."
He calls the United States his second home and said he wants to see American Buddhism grow.
"The spirit of the enlightenment can enrich this culture and make this country greater," he said.