Waking Up to Suffering
The Buddhist Channel, Sept 18, 2005
The Buddhist Peace Fellowship initiates "Seven Ways Dharma Communities (and everyone!) can respond to hurricane Katrina"
San Francisco, CA (USA) -- The Buddhist Peace Fellowship (BPF) have been receiving requests for suggestions on how to respond to the great suffering in the aftermath of Hurricane Katrina. The disaster has been especially painful for people living in the U.S., many of whom have not realized the extent to which economic class and race determine who may escape to live and who might be left behind to die in the event of a natural disaster.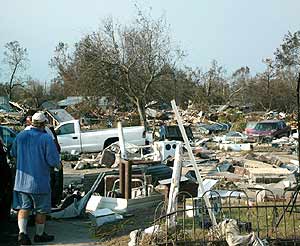 << Scene of devastation taken from Howard Avenue, Biloxi, Mississippi
In a statement issued over their website, the BPF urged all to "also extend our awareness to the reality that suffering is located in all parts of the globe – Sudan, Somalia, the Gaza Strip, Iraq, and many more."
The statement further reminded us that the Katrina devastation "may be an invitation for all of us to deepen our practices so that we may see the roots of suffering more clearly, have the strength to not turn away, and seek ways to respond within our own neighborhoods as well as in other parts of the world."
In response to the event, the BPF offers the following list of seven ways on how you can begin to provide assistance in any capacity. The list includes individuals and groups who are working to alleviate the suffering of survivors of Hurricane Katrina.
The BPF says that they are familiar with their work and encourages everyone to support them in whatever ways possible. The list also includes ideas which one can implement wherever they are, as ways to begin addressing the some of the social, cultural, and environmental causes of this tragic situation.
Here is a summary of the seven ways listed by the BPF:

1. Support The Refuge Project
The Refuge Project has been created to bring the consciousness of providing more than relief and rescue. The intention of the project to create a place of refuge based on spirit-centered action that will shelter and strengthen the minds, bodies and spirits of those who are now, by necessity, seeking "shelter from the storm."
The Refuge Project aims to bring the tragic situation in the Gulf Coast down to a scale that is more readily comprehensible to people and which will allow us to feel that we are contributing in ways that are tangible. The project will bring rolling teams of people to a youth camp in historic Selma, Alabama that has been turned into temporary housing for 100 people recently rescued from the Superdome.
The purpose is to provide multiracial, cross-class, interfaith volunteers to develop and maintain a community of care that will provide the long-term support and the continuity necessary for healing and moving forward.
The goal is to create a site that provides care designed to restore the dignity and self -sufficiency of those in need and to aid them in building new lives that are safe and secure. We are additionally committed to organizing and mobilizing social activists and those displaced by this event to analyze and address the issues of race, class and privilege than are the root causes of this catastrophe.
The Refuge project is committed to responding as quickly as possible to the great need in the Gulf Coast and ask for immediate support in doing this. Right now there are only two people at the camp to set up the program and provide care to 100 people. Angel Kyodo Williams, Karen Hutchinson and Bethsaida Ruiz of the New Dharma Center for Urban Peace are planning to go to Selma and help those already there to set up the program.
The project is specifically asking for a donation of $20 dollars or more and less if you can't. This will allow them to go to Selma and pay for expenses so crucially needed by the people who are currently housed in the camp and to purchase supplies for the camp. This is an opportunity to be involved that is personal and immediate and to bring care that is spirit based as well as long term.
Please contact Karen at 415-218-6469 and Bethsaida at 510-761-1926 for more information. Checks can be made out to "Urban Peace" and mailed to: 6431 Outlook Avenue, Oakland, CA 94605. A website is being set up at www.refugeproject.org.

2. Support Tzu Chi's relief work
Tzu Chi is a global Buddhist charity organization founded by Venerable Master Cheng Yen. Tzu Chi volunteers have been offering financial and medical support as well as other kinds of relief to hurricane evacuees in Texas and other areas.
To help those impacted by Hurricane Katrina, please write checks to "Tzu Chi" and mail to Tzu Chi Foundation, 1100 S. Valley Center Avenue, San Dimas, CA 91773. For more information, please call (909) 447-7799.

3. Support Vietnamese Buddhists going to Texas to give relief aid
Letter from Ven. Bhante Suhita Dharma (member of BPF's International Advisory Council)
The Dieu Phap Buddhist Temple and the Bao Phap monastery have started a relief fund to help the people and the Gulf area. So far we have raised $30,000 to help families directly. This week the United Buddhist churches of Vietnam in America are sending funds to help all of the people in this crisis. This is not the time to blame, it's the time to work and help!
We are preparing to take a truck to Texas with supplies and to work with the people face to face. We hope to leave by the end of the month or the first week in October.
Some of you may know that Houston is my birthplace and my people come from deep bayou country and a number of them lived in New Orleans. They are safe, as they left for bayou country up north when they heard the hurricane was coming. We hope to help 50 families. All groups of people are in need at this time, including animals (pets).
Funds will be needed to rent a truck and pay for the gas to get to Texas, as well as to purchase supplies needed by evacuees. We have a Website and if you wish to donate money please go there.
Go to: www.chuadieuphap.com (as of 9/16/05, this website is not yet launched, but will be in the near future)
You may contact Bhante Suhita Dharma at: (626) 572-8874, or by e-mail at kalibhante@yahoo.com
Tax-deductible donations may be made payable to Chua Dieu Phap Temple. Please write "Hurricane Katrina Fund" in the memo.
Mail to:
Dieu Phap Temple (residence)
424 S. Ramona Ave.
Monterey Park, CA 91754

4. Help ensure that New Orleans' reconstruction is equitable and just for all.
Prior to the hurricane, New Orleans was a city that, though scarce on economic resources, was full of people with progressive and community-minded ideals. We will need to do everything we can to ensure that the re-building process respects these values and puts local residents in decision-making positions. This will include letter-writing and phone call campaigns to our elected representatives and other actions. Already, the Bush administration is considering reconstruction proposals which would include waivers on environmental rules, the elimination of capital gains taxes, the private ownership of public school buildings in the disaster areas, and lucrative contracts to companies with questionable ties to the government such as Halliburton.
The BPF suggests that you donate to some of the innovative organizations based in the area to support them in reinvigorating the city so that rebuilding efforts don't turn New Orleans into a corporate-sponsored shell of its former self.
Here are some suggestions:
For an excellent list of grassroots, low-income, people-of-color led organizations doing relief work, see the list at the Sparkplug Foundation's Website.

5. Work with evacuees in your local area.
Evacuees will be in many different areas of the United States. Contact your local Red Cross to locate shelters near you and find out what help is needed.
* In working with people who have gone through tremendous loss and trauma, we recommend taking a look at "Being Present for Refugees of Hurricane Katrina," a set of guidelines from Lee Lipp of the San Francisco BPF chapter.
* If you are a member of a local dharma center, you may want to invite them to make rooms available to evacuees -- Green Gulch Zen Farm in California is doing this.
* Contact the schools in your area and ask if evacuated children have enrolled, and if they need money for backpacks, supplies, tuition, lunches, etc.

6. In the long term, make a commitment to look at issues of race and class within your own sanghas, neighborhoods, workplaces, and schools.
Here are some readings and resources -- we'll add more in the coming weeks.
Making the Invisible Visible: Healing Racism in Our Buddhist Communities
On Race and Buddhism, by BPF's Alan Senauke
Waking Up to the Tragedy of New Orleans, by BPF's Maia Duerr

7. Take action to ensure that clean-up in the devastated areas is environmentally sound.
A group of concerned biologists, water specialists, and environmental experts are warning that the catastrophic disaster inflicted by Hurricane Katrina is on the verge of exploding into an epidemic time bomb. A huge toxic stew is brewing throughout the City of New Orleans. This volunteer group is recommending that Effective Microorganisms (EM), the same solution that was used to abate the spread of pathogen diseases during the Tsunami Wave Disaster in December of 2004 be used to address the spread of epidemic diseases in New Orleans.
Following the Tsunami, the Thai Army began spraying decomposing corpses washing ashore with this microbial culture. When the Red Cross asked what they were spraying, army officials explained how EM naturally decontaminates organic substances. This product not only remediates toxic sites, but also restores a healthy ecological balance to the impacted areas. Upon learning about this new technology, Red Cross International and Red Crescent officials began instructing other impacted countries how to apply the decontaminant. The World Health Organization had originally predicted that there would be more deaths from the spread of pathogen diseases than from the actual disaster itself. These deaths never happened. Also, the German government used EM after the flooding of the Elbe River in 2002 to decontaminate the standing toxic waters, similar to what has transpired in New Orleans.
What can you do to help get Effective Microorganisms (EM) technology applied to the contaminated areas impacted by Hurricane Katrina?
E-mail or phone your Senator and the White House or call 202-456-1414.
Send e-mails to CNN, FOX or your favorite media networks to get national attention.
For more information, contact James McMath and Kendall Arey. EM Disaster Relief Campaign, Santa Fe, 505-983-4014.
If you wish to know more about the 7 ways, visit the BPF site at:
http://www.bpf.org/html/resources_and_links/statements/katrina_responses2.html