On the road to holiness
The Idaho State Journal, Sept 18, 2005
Pocatello residents take to state highways to hear the Dalai Lama
Hailey, Idaho (USA) -- Thirty minutes after seeing one of the most revered religious figures in the world in person, a quartet of girls from Pocatello High School tried to pin down exactly what makes the Dalai Lama so charismatic.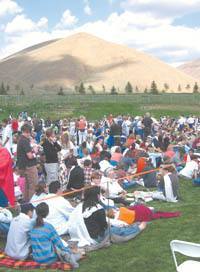 << A crowd of students and adults await the appearance of Tibetan spiritual leader the Dalai Lama. A total of 15,000 people reportedly traveled to Hailey for the two-day event. Journal photos by Dan Boyd.
"He made it a lot of fun," said sophomore Allison McManus. "He acted more like a friend than a politician."
"I went in there thinking he was some godly figure, but he's just human," added junior Ebony Jenks.
Sprawled in the brown velour seats of one of two buses heading down Highway 93 toward Pocatello, the girls were among 100 or so Gate City residents to seize the opportunity to witness the Dalai Lama's historic visit.
But while the voyage to Hailey represented a unique opportunity for area youth - the Dalai Lama hadn't appeared in the United States for more than two years - it wasn't just about spiritual enlightenment.
After all, it was a road trip.
Talk about homecoming dresses, dating and Friday night's football game filled the air for much of the three-hour drive, and that was just on the way there.
For the adults, unaccustomed to the microculture that flourishes on high school bus rides, the ride wasn't just a trip to see the Dalai Lama. It was a chance to see the reaction of the next generation.
"The basic thing going up was, 'I don't know who this guy is but I'm curious as to what he's going to say,'" said Glenn Harvey, who organized the three buses that departed from Eastern Idaho. "When they came back it was, 'Wow.'"
Obviously, for Harvey and other event organizers who had hoped the younger generation would take the Dalai Lama's words to heart, there was plenty to smile about.
During his speech, the Buddhist monk, who has been Tibet's spiritual leader for nearly all of his 70 years, urged the Pocatello students and others from around the state to usher in a "generation of peace."
For PHS junior Aaron FitzSimon and others, that message hit home.
"I kind of like the fact he trusts us and thinks we can deal with it," he said, giving his Discman a temporary pause. "I don't know if I'd say we're quite ready for that (responsibility), but I think as we progress we'll be ready for it."
Elise Smith, a senior at Poky, said she also detected a genuine quality to the Dalai Lama's words.
"I kind of felt it was more on a personal level than an image level," she said. "Eventually, every (new) generation is going to be in charge.
"He respects us as a generation."
Despite the 50 years and cultural ocean that separates most Gate City students from the exiled leader of Tibet, Smith's observation gave voice to a frequently heard sentiment - He gets us.
In fact, the Dalai Lama seemed to know that respect goes a long way with America's youth, and a little sense of humor doesn't hurt either.
"I really liked how he sort of made it more funny," said Amanda J. Anderson, a PHS junior, recalling the Dalai Lama's self-effacing remarks and almost Yoda-like playfulness.
For Harvey, a practicing Buddhist who had the students write entries in notebooks before and after the Dalai Lama's speech, the opportunity seemed timely.
"It's very interesting to me that one of the perspectives we have as Americans is it's not appropriate to talk about peace in a time of war," he said. "I think it's the perfect time."
Harvey said the event proves non-Christian religions are very much alive in Southeast Idaho, but he also praised the LDS church for granting use of their facilities as a bus drop-off point and for their overall support of the Dalai Lama's visit.
For area students, the event was an eye-opener, and not just because they had to catch the bus at 8 a.m. on a Monday morning.
By the time they returned home that evening - tired from a long day of listening, pondering and catching up on gossip - they could boast of an experience few Americans can match.
But that's not to say their teachers were willing to grant a free pass.
When asked if she'd brought her homework with her on the bus, Franklin Middle School eighth-grader Andrea Beseris shrugged her shoulders and smiled. "I forgot it," she said.