Peace march to call for an end to Iraqi war
The Buddhist Channel, Sept 21, 2005
Buddhist Peace Delegation to Join in September 24th March on Washington, D.C. to Call for End to War in Iraq
Berkeley, CA (USA) -- On September 24, 2005, hundreds of Buddhists from across the United States will converge in Washington, D.C., to form a "Buddhist Peace Delegation" and call for an end to war in Iraq. The delegation is made up of members of diverse Buddhist communities, including the Buddhist Peace Fellowship, the Community of Mindful Living, Nipponzan Myohoji, and Zen Peacemaker Circles.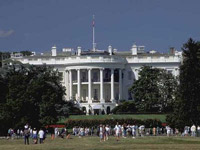 << An estimated presence of 100,000 people is expected to participate in the march to the White House
The Buddhist Peace Delegation will join with thousands of others in Washington for four days of events, including a march on Saturday, Sept. 24, and an interfaith service on Sunday, Sept 25. According to Bill Dobbs, a spokesman for United for Peace and Justice, one of the groups organizing the events, this march could be the largest since the Iraq war began.
Organizers estimate about 100,000 people will attend. This event marks the first time in more than a decade that demonstrators will be allowed to surround the White House.
The Buddhist Peace Delegation will participate in all of the weekend's activities, beginning with a candlelight vigil on Friday evening, September 23, at 7 pm at the church of St. Stephen and the Incarnation, and culminating with a massive nonviolent direct action and civil disobedience at the White House on Monday, September 26.
Members of the Buddhist Peace Delegation include Bhante Suhita Dharma, the first African American to be ordained as a Buddhist monk in the U.S.; Tara Brach, founder and senior teacher of the Insight Meditation Community of Washington, D.C.; Kenneth Kraft, professor of Buddhist Studies at Lehigh University (Pennsylvania) and author of Dharma Rain: Sources of Buddhist Environmentalism; and Maia Duerr, executive director of the Buddhist Peace Fellowship.
Bill Jenkins, of the Washington, D.C., Buddhist Peace Fellowship chapter, spoke about the group's intention: "This is a time for us to come together to manifest the change we are seeking in the world, peacefully and compassionately. Many of us have been inspired by the way of peace taught by Thich Nhat Hanh, H.H. the Dalai Lama, and many other teachers." The delegation will also present President Bush with a letter connecting the war in Iraq with rebuilding efforts in the aftermath of Hurricane Katrina.
----------------------
ABOUT THE BUDDHIST PEACE FELLOWSHIP
The mission of the Buddhist Peace Fellowship (BPF), founded in 1978, is to serve as a catalyst for socially engaged Buddhism. BPF's programs, publications, and practice groups link Buddhist teachings of wisdom and compassion with progressive social change. BPF is an affiliate of the Fellowship of Reconciliation and the International Network of Engaged Buddhists. More information is available at www.bpf.org.