Candle blamed for Buddhist temple fire in City Heights
By Gregory Alan Gross, UNION-TRIBUNE, November 14, 2005
San Diego, CA (USA) -- A predawn fire tore through the roof of a Buddhist temple Monday morning in City Heights, and the building's layout made things tough for firefighters.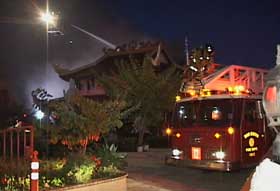 << ALBERT D. JOHNSON / Special to SignOnSandiego
The blaze was caused by a candle that had been put away with several other candles used in Sunday night services, said San Diego Fire Department spokesman Maurice Luque.
The fire started on the first floor, where religious services are held, and spread upward into the attic, said San Diego Fire Department spokesman Maurice Luque.
Fire Department Division Chief Jeff Carle said his firefighters tried to get at the blaze from inside the two-story temple, but couldn't reach the roof from inside.
"There are no stairs going up to the second floor," Carle said. "The only way up was this skinny little ladder the monks use. We had to abandon our interior attack.
"The whole roof was on fire, from one end to the other."
Firefighters resorted instead to a pair of ladder trucks that poured streams of water into the roof and pushed back the flames, Carle said, but their inability to get to roof from the inside slowed efforts to make sure the fire was completely out.
One firefighter suffered minor injuries when a nail went through his boot, Carle said. There was no immediate estimate of damage.
Arson investigators, including federal investigators from the Bureau of Alcohol, Tobacco and Firearms, combed through the interior of the temple after the fire was out.
Carle, who spent 19 years as an arson investigator, said there were no immediate signs that the fire had been deliberately set. He said the federal agency automatically investigates fires involving places of worship.
Members of the temple said the building had been at its current location for 15 years and had been rebuilt about four years ago, but that they had never been able to insure the structure.
"We tried and tried, but we could not get insurance," said Tien Lien Nguyen. "We need help from the community to fix the temple."