Restorative Medicine
by Olivia Wu, San Francisco Chronicle, November 27, 2005
Healthful Buddhist vegan food comes to S.F.'s Crocker Galleria
San Francisco, USA -- We're catapulting into the gut-meets-glut holidays, so there's no better time to visit Medicine.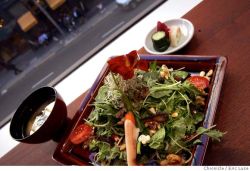 "Medicine: New-Shojin Eatstation" is the name of this new restaurant, but nothing here tastes like medicine. The name derives from a traditional Japanese cuisine called shojin, the food of Buddhist temples, with a history that reaches back to the sixth century.
The food is inherently healthful; it rests on the Buddhist creed that "food is medicine." Some say that this Kyoto-based style of cookery can cleanse one's inner being.
The creators of Medicine might have chosen a less startling translation -- say, "Healing" -- but that would have suggested a passe flower-power sensibility. It would detract from the radical contemporary aesthetic that the owners bring to San Francisco, probably the most receptive place in the country for this concept.
Medicine serves some of the most novel vegetarian food in the city. At the same time, its mostly organic menu offers traditional Japanese dishes and takes big risks, listing esoteric, regional foods that aren't available elsewhere.
Buddhist vegan cuisine has existed for centuries. Medicine is a collaboration of two owners, Will Petty and Skye Thompson of Colorado, who went to Kyoto to find chef Kichizo Sakamoto and persuaded him to join their venture. His son, chef Ryuto Sakamoto, heads the kitchen.
The result is a fusion of opposites: ancient and contemporary, fine dining and casual service, East and West, from-scratch cooking and quick food, traditional and hip. Those are a lot of dualities for any place, but Medicine generally succeeds at making this work, delivering a well-rounded experience and certainly an unusual one.
Diners sit at beautifully crafted wooden benches and mahogany (sustainably raised) tables that suggest a refectory, and are faced with a menu that contains some familiar choices. The house sushi ("medicine roll," $5.25 for four pieces, $9.95 for eight) is surrounded by a nine-grain rice tinged a lovely rose color, wrapped around avocado, sour plum, carrot, shiso leaf, sprouts and flaxseed. Its soft hues feed the eye, and a bite reveals flavors that pop, so balanced they need neither soy sauce nor wasabi.
The tempuras are excellent, fluffed in a cloud-light batter that remains crisp throughout the meal. The maitake small plate ($5.50) brings forth the perfume of the mushroom, while the tempura stays out of the way.
Medicine's menu suggests starting with one of five "foundation sets." These are three- and four-course set menus ($8.95-$10.95) that come with a dainty appetizer plate of house pickles, cured cucumber, lotus root and ginger. That's followed by a soup and, in some cases, a simple block of artisan tofu topped with ginger and nori. Then the entrees arrive, among them: soba noodles, the mountain monk salad, a tempura of mixed vegetables, simmered vegetables ("clarity") and sushi.
The mountain monk salad shows off the extensive range of flavors the kitchen can produce. Delicate seasonal greens, including some extremely fragrant mizuna, float in a curly mass of mixed greens dotted with almonds and sesame seeds. Earthy, fermented beans provide the antidote to the floral leaves. The dressing, meanwhile, drapes the greens like a light saffron robe.
The austere, small plate of a cube of tofu and the cold soup in some of the sets were puzzling. The soup looked as if it were water with a plum and a leaf floating in it, and tastes close to water -- difficult even for the minimalist in me. The tofu, indisputably fresh and handmade, did wake up with a drizzle of soy sauce but was still severe; the cold, watery broth became harder to swallow with the tempura because deep-fried food begs for a sip of hot liquid.
However, not everything is austere and transparent. Plenty of dishes deliver a rich, creamy mouthfeel. The mountain yam croquette ($5.25) served in a curry sauce of pureed vegetables, as well as the grilled eggplant with miso dressing ($4.75), are sensual and hearty, as are the green beans with sesame sauce ($3.50). While it may be replaced on a new menu, a beautifully balanced shira-ae, a white salad of edamame, konnyaku (from a root vegetable), carrot and pear ($3.25) in a creamy dressing, showed what the kitchen can do. The eggplant was wondrous, with the natural texture of the vegetable enhanced by a smooth, thick miso. It's a must-order dish.
If you're adventurous, try the jade nuggets ($4.95), in which highly fermented natto (soybeans) are wrapped in shiso leaf and tempura-fried. It's a burst of intense, cheesy flavors that, if you're not used to natto, you might describe with a less positive vocabulary. This is the blue cheese end of the Japanese palate.
Also for the adventurous is the daitoku-ji fu, wheat protein (related to seitan) braised in soy sauce. It's imported from Japan, and has a meat-like texture, a delicacy to most East Asians and a mystery to others.
The restaurant has also just added seasonal six- to nine-course tasting menus at dinner.
Dessert (all $3.75) was the one area of the menu that was disappointing. An intense green-tea tofu made of ground green tea (matcha) was overly bitter, the only dish we tried that might be described as medicinal. The chilled coconut cup delivered light texture but was marred by the cloying sweetness of artificial coconut milk.
For a cuisine without dairy and eggs, the repertory of tastes at Medicine is immense, while at the same time clear and not muddled. Such control of flavors demonstrates the great depth of work within a single food culture rather than the broad mishmash of fusions in current trends. Some of the dishes are reminiscent of the clean flavors at Roxanne's, the short-lived organic raw food restaurant in Marin, but at a quarter of the price and one iota of the pretension.
Servers, dressed in black T-shirts that sport an artful, calligraphic version of the Sanskrit term for loving-kindness, are friendly and eager to explain the cuisine. On one of our three visits, duplicates of our orders came to the table a few times, and the waiter seemed out of whack, but otherwise service was unfussy and attentive.
While the lines of wooden tables, 170 seats and open kitchen suggest fast food (one end of the dining room opens into the Crocker Galleria food court), the subtlety of the cuisine encourages lingering. This may be due in part to the design by "green" architect-designer Janet Crane of Freebairn-Smith & Crane of San Francisco. The serene room suggests a monastery, even with light jazz and pop playing. Although it's not invasive, the four-panel screen that shows a video scene from an American landscape looks kitschy. Such elements, which would seem to fight one another, surprisingly, don't. Somehow, Medicine, like its name, threatens an overbearing austerity, yet deftly avoids it.
Despite the prices for the set menus (around $10), you can quickly run up a substantial tab. Page one of the menu lists appetizers, specialties and Zen temple classics that range from $2.75 to $8.
These are tiny, delicate plates, smaller than you'd get elsewhere. Someone who cares about volume of food per dollar might be shocked by serving sizes. Yet many of these dishes, such as the Jade Nuggets and maitake mushroom and green bean salad, are the best on the menu and are well worth it because they're made from scratch and largely organic ingredients.
If you order from the junmai sakes ($9-$23 for 180 milliliters, or about 6 ounces), or organic wines, house-made juices and teas, prices can quickly rise to $30 per person. On the other hand, you can drop in and out for lunch (the menu is the same for both meals), spend less than $10 and leave feeling quite satisfied. A 17 percent service charge is automatically added to each check; the menu states that no tipping is accepted.
After eating at Medicine, you might not feel full in the customary way, but you'll feel fulfilled in another way -- by the complete and whole flavors of the dishes. Quite likely, you'll also feel restored.