Walking a new path
by Paula Parrish, The Record Staff Writer, Dec 17, 2005
Lodi Buddhist minister promoted to San Jose
San Jose, CA (USA) -- During the past 21 years, the Rev. Kenshin Ken Fujimoto watched some church members grow from high school seniors into parents bringing their own children to the Buddhist Church of Lodi.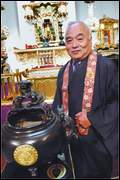 << The Rev. Kenshin Ken Fujimoto of the Buddhist Church of Lodi will leave in January to head the San Jose Buddhist Church Betsuin. Credit: CALIXTRO ROMIAS/The Record
"It's fun remembering how they used to be and how they freak out over how their kids are now," Fujimoto, 57, said with a laugh.
He'll be taking those memories and many others with him when he leaves the Lodi temple in early January to become head (rinban) of the San Jose Buddhist Church Betsuin, where he'll care for about five times as many households (about 1,000) as he has at the Lodi temple (about 211 households).
"We will really welcome him here. I'm sure he'll do good. I do have a confidence about him," said San Jose rinban Masanori Ohata, who is retiring and will be replaced by Fujimoto. Ohata, who has been rinban for almost 10 years, was formerly at the Stockton Buddhist Temple. Ohata noted that Fujimoto's language skills will be a definite advantage in San Jose.
"He is a bilingual person, and I am from Japan, and I have a bit of a hard time with it," Ohata said. "We have all kinds of nationalities, not just Japanese, joining the temple nowadays."
Buddhism teaches the interdependence of all things and the path to enlightment.
After more than two decades in Lodi, Fujimoto said that "I'm really going to miss so many people. But it's a different set of challenges. I have anxieties, but I'm also looking forward to it at the same time. It's just like any big change in life."
It's a change that Fujimoto has turned down in the past.
"There have been other situations where I could have transferred, but at each of those times, one of my kids was a junior or senior in high school, and I didn't want to leave at those times," he said. "I've got no excuse anymore."
Fujimoto, whose father was a Buddhist minister, had no plans to follow in those paternal footsteps. After high school in San Leandro, he went to the University of California, Santa Cruz, where he got a degree in economics. He was also a member of the rugby team, which he said was responsible for picking the school's well-known and much-beloved mascot -- the Banana Slug.
Why did they pick the bright yellow, slimy, shell-less mollusk? "That's what we had the most of. We were stepping all over them on campus," Fujimoto said.
After he received his bachelor's degree, he was offered an opportunity to study in Japan.
"I decided I might as well study something uniquely Japanese, and that's why I studied Japanese Buddhism," he said.
He entered Shin Buddhist studies at Ryukoku University and was in Japan for nearly five years, where he received a master's in Shin Buddhist studies. Prodded by professors, he took the steps toward ordination and was surprisingly assigned to be assistant minister at the Fresno Betsuin.
"They asked me, 'What else are you going to do?' and when I thought about it, I realized they were right and thought I'd give it a try," he said. "After all, I could always quit and do something else. I'm still giving it a try."
After four years in Fresno, then three years in Sacramento as associate minister, he arrived in Lodi in November 1984.
"There's nothing I wouldn't do for him," said Mary Kurahara, who has been a member of the Lodi temple for more than 50 years. "He is such a compassionate minister, and he's been with us for so long. He and his family have been like family to my family. (San Jose) is definitely lucky to get him. Their gain is our loss."
Fujimoto said that a replacement for him in Lodi hasn't been named yet and that the Sacramento temple will be sending ministers and lay leaders to take care of religious functions temporarily.