Ceres Buddhists make way for development
by Adam Ashton, The Modesto Bee, Dec 23, 2005
Ceres, CA (USA) -- Cambodian Buddhists who established a temple seven months ago are looking for a new place to worship as they make way for the city's plan to commercially develop a stretch of the town's south side.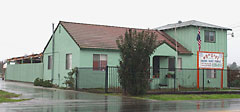 << The Buddhist temple in Ceres has been sold to a Florida company.
MARTY BICEK/THE BEE
The Cambodian Buddhist Association of Ceres plans to sell its temple site on Service Road to Regency Centers, a Florida retail property owner that focuses on grocery stores, said Hoeut Hong, a member of the Buddhist group. Hong said the group is finishing its sale and that it will not lose money on property it bought in February.
City planners say Regency is buying land along Service and Mitchell roads adjacent to Highway 99 for a project still taking shape. During their campaigns this fall, Mayor Anthony Cannella, Councilman Ken Lane and Councilman Chris Vierra each listed development in that area as a priority.
Amy Jones, Regency's vice president of marketing, confirmed that the company is looking for properties in the area but would not comment further.
Ceres' general plan calls for commercial development around the temple. The Buddhist group obtained the city's approval for the temple in May, but only on a temporary basis so it could be pulled if a commercial builder entered the scene, Planning Commissioner Richard Felix said.
Regency is "ready to pull the trigger. It's just a matter of finding the anchor tenant they want," Felix said.
The Angkor Borey Temple at 2873 E. Service Road sticks out like "a big spear" in Regency's plans, said Ron West, a Modesto consultant helping the Buddhists find a new site.
Three monks and a nun live at the temple. Hong said about 20 people visit it daily and that about 100 come for special occasions.
He wants to find a site in Ceres to accommodate Cambodian-speaking Buddhists living south of Modesto.
Angkor Borey Temple opened in May with an awkward start because the Buddhist group did not follow the city's preferred path for opening a religious center.
Normally, people who want to open a church seek a permit before buying land, Ceres Senior Planner Tom Westbrook said. That gives religious groups a chance to see if they can meet the city's codes before they sink cash into a project.
Westbrook said the Planning Department sent the Buddhist group information recommending that course, but the documents apparently were misplaced. The Buddhists bought the land and then sought a permit, only to find the city required them to build a parking lot for 29 cars, provide spaces for people with disabilities and landscape the area.
The Planning Commission this week extended the association's permit, but Westbrook doesn't know if the group will follow through on the document's requirements because of the pending move.
West also said it's unlikely the group will build a parking lot.
"It seems foolhardy to do that and then bulldoze it," he said.