Buddha heads no artifacts, artist admits
By Kerana Todorov, Gold Country News Service, March 5, 2006
Figurines in river drew law enforcement scrutiny
Colfax, CA (USA) -- The mysterious Buddha figurines found in the American River last summer have a more recent history after all.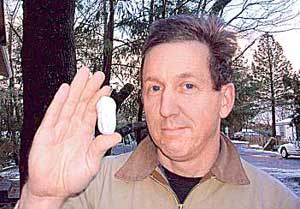 << Casey O'Connor, a Colfax area artist, said he made thousands of Buddha figurines last summer that have now stirred up a controversy over what officials suspected were ancient artifacts. Photo by Kerana Todorov/Gold Country News Service
A Sierra College art professor on Friday said he made thousands of Buddha figurines last summer in his garage, then dropped them in an area near the Iowa Hill Bridge Road bridge where he goes to cool off on hot summer days.
"I just put them there as keepsakes for locals and tourists to find," said artist Casey O'Connor, of Colfax.
The figurines whipped up a storm of interest after federal agents visited Jim Bowers' Better than Naked T-Shirts and Gifts Shop in Colfax on Feb. 22 and confiscated two dozen of them.
Under federal and state laws, it is illegal to remove archaeological artifacts from public land. Bowers' figurines - and the investigation - were turned over the next day to California State Parks because the find was in an area under state jurisdiction, State Parks Ranger Donna Turner said Feb. 22.
Bowers, 49, who believed the figurines were old, said he had purchased them in January from George Herman Henry of Colfax for $300 cash and about $2,500 of quartz and gold.
ADVERTISEMENT
Henry, 57, on Feb. 23 told the Gold Country News Service that he had found hundreds of Buddha heads last August while he searched for gold in the American River.
Henry, who is also a janitor at Colfax restaurant, was arrested on Feb. 24 on outstanding warrants for alleged illegal weapons possession and driving on a suspended license. He was released the same day on $9,500 bail, according to the Placer County Sheriff's Department.
Alerted by friends of what was going on, O'Connor contacted Placer County Sheriff's Department on Thursday to clear up any misunderstanding and nip the situation in the bud. Placer County Sheriff's Lt. George Malim on Saturday confirmed that O'Connor contacted the department.
O'Connor, 43, who still has a 5-gallon bucket full of the genuinely modern porcelain figurines in his garage, said he does not know what he will do with the Buddha heads, sea shell shells and other figurines in his possession.
"Another 100 years, they'll be artifacts, but not today," he said.
Henry may not have been the first one to find O'Connor's figurines in the American River.
Eric and Lisa Hickman of Weimar on March 1 said they saw hundreds of Buddha figurines while they snorkeled in the area last July.
"They were all over," Eric Hickman said.
He and his wife did not think they were antiques and threw them back out in the water later for a treasure hunt at a family reunion.
"We really had a good time finding them," Lisa Hickman said last week.
Bowers on Friday said he had not heard any news from California State Parks. Turner could not be reached for comment Friday.