Oakland, Fremont Buddhist women honored at U.N. meeting in Bangkok
By Aman Mehrzai, Chico Enterprise Record, March 6, 2006
Oakland, CA (USA) -- Oakland resident Sandy Boucher - feminist, activist and Buddhist - will accept an award Tuesday for being an outstanding woman, in honor of United Nations International Women's Day.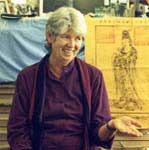 << Sandy Boucher, to receive an award in honor of United Nations International Women's Day.
Also being honored is a Buddhist nun from Fremont who spearheaded the opening in Fremont of the first women's monastery in the United States.
Boucher will receive her award in Bangkok, Thailand, where numerous women from around the world are being honored for using social justice and religion to bring attention to the plight of Buddhist women internationally.
The event is held annually in Thailand to spotlight women's suffrage in predominantly Buddhist Southeast Asia. The United Nations has noted that women there are subjected to sex trafficking, disease, poverty and violence in unusually high numbers.
Bhikkhuni Sister Tathaaloka will have the award accepted on her behalf. Tathaaloka, a fully ordained Buddhist nun, last August turned a rented home on Essanay Place in Fremont into the first retreat home in the country specifically designed for women seeking ordination into the Buddhist monastic lifestyle.
Born Heather Burke in Washington, D.C., Tathaaloka began meditating in 1989 as a 19-year-old student at Portland State University in Oregon.
Five years ago, she started working with local Buddhists, including members of the Wat Buddhanusorn on Niles Boulevard in Fremont to create the women's monastery.
Although Boucher's activism is centered in the United States, her writing and research amplifies a call for worldwide change in what she views as a male-dominated grip on Buddhism.
Tavivat Puntarigvivat, secretary general of the Outstanding Women in Buddhism Award Committee, who will present the award, told Boucher in a letter she was chosen by a panel comprised of Buddhist scholars and clergy for being a positive role model to empower women around the world.
Boucher, who nearly didn't go to Bangkok for financial reasons, decided to at the last minute when her Buddhist teacher, Ruth Denison, whom Boucher wrote a book about, decided to put up the funds for her travels. The 85-year-old Denison will accompany her and also receive an award from the committee for her achievements.
Buddhist thought teaches that achieving a perfect balance can take a lifetime. Boucher has strived for the past 25 years to achieve that balance, both internally and within her community. colleagues say.
As an activist and feminist, Boucher says her goal has been to change the face of Buddhism inside the United States. She feels some eastern traits of the faith portray an Asian, male-dominant perspective, which she hopes to undo by raising awareness from within.
Her books include ``Turning the Wheel: American Women Creating the New Buddhism,'' ``Opening the Lotus, A Woman's Guide to Buddhism'' and ``Discovering Kwan Yin, Buddhist Goddess of Compassion.'' In the books, she raises issues of women's suffrage within Buddhism.

Advertisement

Boucher was an active feminist in the late 1970s early 1980s, and accepted Buddhism after traveling to the Mohave Dessert where she met Denison, who says she recognized Boucher had special qualities. ``She was a woman with great spirit,'' recalled Denison. ``She was strong willed for exploring new ways, to make things more accepting for women in general.''
Soon after becoming a Buddhist, Boucher realized women were not equally represented in the faith. ``Buddhism is a male supremacist religion,''
Boucher said. ``Enlightened women did exist in the religion over 2,500 years ago. We know who they are, and their names are known to us, but then men took over.''
So she decided to take action by hitting the road. Boucher said she traveled the country to find out what other Buddhist women were feeling. She interviewed 100 women.
``I was careful in my approach,'' said Boucher. ``I didn't approach them saying, `Do you feel oppressed as a Buddhist woman?' ''
Boucher said she found Buddhist women across America were indeed feeling oppressed by men. Buddhist nuns were considered to be three steps below the monks and lacked social support.
``The monks are fed and taken care of by the community,'' said Boucher, referring to a traditional practice of Buddhist societies, in which villagers who are often poor pay the monks with food to pray for them and do righteous deeds they can't achieve. ``But the women nuns were not taken care of and often had to find an additional means of survival.''
Boucher also found that sex scandals exist within Buddhism. In 1984, the San Francisco Buddhist Zen Center experienced scandal when its ordained priest was accused of using his position to seduce female students. Boucher included her findings in ``Turning the Wheel,'' which raised some eyebrows among traditional Buddhists, who support an orthodox view of the religion. Some feel that Boucher's attempts to change the male role is a distraction that takes away from the essence of Buddhist teachings.
Some also feel that creating an American version of Buddhism dilutes the teachings, Boucher said.
``One woman tried for three hours to convince me not to put the sex scandal in the book, claiming that it would affect (the priest's) good works.''
Boucher currently teaches classes on writing memoirs and leads Buddhist retreats.
Her Web site is www.sandyboucher.net .