Large crowds turn out to see tiny relics of Buddhist masters
By Matthew Artz, Inside Bay Area, Mar 14, 2006
Fremont, CA (USA) -- FOR A BUDDHIST, Carmen Straight has an enviable burden. She and one co-worker drive across North America in a Dodge van showcasing pebble-sized remains of Buddhist masters, including those of Guatama Siddhartha, the historic Buddha who lived in 500 B.C.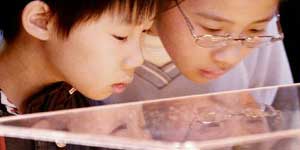 << Siblings Brendan and Ashley Lim of Union City inspect relics of Buddhist masters Sunday at the Willits Center in Fremont. About 2,000 people converged on the center from throughout the Bay Area during the weekend to see the pieces and receive a blessing. (Bea Ahbeck/staff)
Their mission is to spread notions of love and kindness, shepherding the priceless relics until a 500-foot statue is built in India, inside which the relics might one day reside.
"Anywhere the van is, we're not far away," said Straight, relic custodian for the Maitreya Project Relic Tour.
Last weekend the purple van, adorned with quotes from the Dalai Lama, was parked outside the Willits Center at 3755 Washington Blvd., where an estimated 2,000 people converged from around the Bay Area to see the relics and receive a blessing.
"I feel very blessed," said Kwang Lim of San Ramon, who came Sunday to pray and snap pictures of the relics for his father, a devout Buddhist who is facing gall-bladder surgery. "I hope (seeing the pictures) will help him through hard times," he added.
By Sunday afternoon, dozens of visitors formed a line that meandered through the center's lobby between aisles of shoes theyhad removed.
Inside, the relics — some shaped like sesame seeds, others that resembled pearls — were under glass on a table next to offerings of flowers and Trader Joe's Chocolate Truffles.
Buddhist nuns offered blessings by placing relics of the historic Buddha, encased in a pint-sized metal tower, on the heads of visitors who knelt before them.
The relics, which include bone fragments and fossilized blood, are believed to have been found among the cremation ashes of Buddhist masters.
Buddhist teaching holds that the remains embody the master's spiritual qualities of compassion and wisdom and are deliberately produced by the master at his death.
Myrissa Lai of Petaluma is not a Buddhist, but she said she felt a "powerful energy" viewing the relics and receiving the blessings. "I could feel the expression of peace and love," she said.
Chung Tuong, a Buddhist from San Francisco, never imagined that he would see Buddha's remains.
"It's something I'll remember for the rest of my life," he said.
The Maitreya Project has visited more than 140 cities since 2001 with relics donated by monasteries, temples and individuals, including the Dalai Lama.
The organization anticipates that by 2010 it will complete construction of a bronze statue of Maitreya, the future Buddha and a source of love and kindness, Straight said.
Many relics of Buddhist masters are held in monasteries, according to Straight. The historic Buddha, she added, requested upon his death that his remains be divided among the eight kings of his time.
On Sunday, Straight was preparing to drive the small portion now under her watchful eye to Southern California.
The first stop on her journeys, she added, is often a restaurant where Straight always asks for a seat by the window.
"We make sure the van (and the relics) are always in view."