US lawmakers urge Congressional Gold Medal for Dalai Lama
Original source: AFP, Published on the Buddhist Channel, March 21, 2006
Washington, USA -- US House of Representatives lawmakers have begun a campaign to award the Dalai Lama, Tibet's exiled spiritual leader, the Congressional Gold Medal, one of the legislature's highest honors.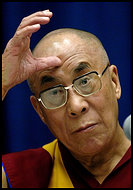 << The US is proposing to award the prestigious Congressional Gold Medal to HH the Dalai lama
The medal would be given "in recognition of the Dalai Lama's enduring and outstanding contributions to peace, nonviolence, human rights and religious understanding," supporters of the measure said in a letter to fellow House members.
"The Dalai Lama has labored tirelessly to further highlight the desperate plight of the Tibetan people, who have been systematically denied religious and political freedom under Chinese rule of Tibet, as well as economic and educational opportunities," the March 2nd letter continued.
The Congressional Gold Medal is reserved for the most heroic and courageous figures -- more often than not those who are also seen as moral or spiritual leaders.
Past recipients include Pope John Paul II, Mother Teresa, and Nobel Peace Laureates Elie Wiesel and Nelson Mandela.
"Passage of our legislation will send a strong signal of congressional support for a negotiated settlement of the Tibetan issue that preserves Tibetan culture and promotes autonomy for the people of Tibet," the sponsors of the measure wrote.
Sponsors need to enlist support of at least half of the US representatives to approve bestowing the honor on the exiled Tibetan Buddhist leader.
Backers include Representative Tom Lantos, the top Democrat on the House International Relations Committee.