City of 10,000 schools celebrate 30 years
By LAURA CLARK, The Ukiah Daily Journal, March 29, 2006
Ukiah, CA (USA) -- "The fogginess at the crack of dawn, the vibrantly colored clouds at sundown, and the recitation in the Buddha Hall ... I like everything about the City of 10,000 Buddhas," 10th-grader Virginia Chung states in a book honoring the 30th anniversary of Instilling Goodness and Developing Virtue Schools.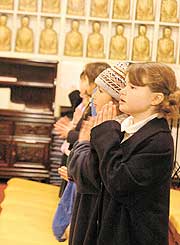 << Isaac Eckel/The Daily Journal Emma Crawford, front, and Samantha Bennett, along with the rest of their class, partake in a daily ceremony of chanting and bowing in the Buddha Hall temple after lunch Tuesday at the City of Ten Thousand Buddhas.
In 1974, the Dharma Realm Buddhist Association acquired the Talmage property, formerly the location of a state mental hospital, and two years later the Venerable Master Hsuan Hua founded Instilling Goodness Elementary School.
In 1981, or by the time the elementary school students reached high school age, Developing Virtue Secondary School -- reportedly the first Buddhist high school in the nation -- also opened on the grounds of the "488-acre Buddhist monastery, convent, university, and international community 110 miles north of San Francisco," according to written information about the city.
"When the first light of day hits, the sun's rays pour over the drowsy earth like maple syrup over pancakes and gently nudge the plants and animals awake. I greedily breathe in the fresh air as it calms my previous night's frustration and brightens up my spirit. The City of 10,000 Buddha's beautiful morning tells me that today is a new day, so I have to make that day a masterpiece," Chung continues.
She also writes about the peacocks that freely roam the campus, and others visiting the city have described the temple as nothing less than awe-inspiring. That said, students definitely get an education at the city's schools.
"One hundred percent of our graduates, since 1995, have gone to either a community college or a four-year university," said Matt Bostick, principal of the boy's division elementary and high school. "Over 93 percent graduate from a university, so our products are good. ... So what we intend to do is build on this and improve the schools," he added, when asked his future goals for the schools.
A full academic program following the California State Standards is offered at the boy's and girl's schools. The elementary school offers language arts, mathematics, social studies, science, Chinese, art, virtue studies, meditation and physical education.
The high school offers a college preparatory curriculum of English, mathematics, social studies, science, Chinese, ethics, Buddhist studies, meditation, physical education, visual and performing arts and electives.
The program not only emphasizes solid academics, but also character development and making connections with other schools, said Heng Yin, principal of the girl's elementary and high schools.
"For example, we have a youth exchange between different schools. We are doing the junior high pen-paling and other projects with a Catholic School in Sri Lanka (a Buddhist country near India). They are working on the United Nations Millennium goals to eradicate poverty and hunger. We have also done local youth exchanges with Potter Valley High School, Ukiah High School, St. Mary's School, and an Islamic School in Sacramento."
Asked why someone should go to their schools, Bostick said: "The sheriff of Mendocino County came out for our 30th anniversary and he gave a speech ... (he talked about) gangs, drug use ... those are things we don't have here. We have a pure environment: no alcohol, no tobacco ... students wear uniforms. As a matter of fact, we kind of unplug them from the world. We also have no cell phones, no TVs, no MP3 players and Internet is controlled."
The students are also close to nature and to each other, Yin said, noting some students and teachers live on campus.
"Also the boys and the girls are separated. ... The girls feel really at ease and they can just be themselves and not worry about making themselves up or looking foolish in front of the boys," Yin said, noting students agree -- and actually sign a contract -- not to engage in romantic relationships or communicate with each other.
Asked what they liked about their school, kindergartners said things like, "the food," "my teacher" and "I like to sing."
High school senior Julia Ha, was more expansive in her reply to the same question. "I've been coming to the City of 10,000 (for celebrations and such) ever since I was little, and it's always been like a dream to come to school here," she said.
"I went to public school in middle school and it was a lot of different people worried about the latest trends, popularity and boys. Here you just focus on your studies and you become one with the environment. Also it's Buddhist and I have been Buddhist since I was little, so I kind of found myself here," she said. Another benefit of the school, Ha said, is that it's small. "We only have 24 girls at the high school and you get a lot of attention. Our student ratio is two to one."
Currently, the student body at Instilling Goodness and Developing Virtue Schools (K-12th grade) consists of 55 boys and 75 girls.
A university program is also in place at the city, but an appropriate building is not, according to David Rounds, Dharma Realm Buddhist Association board member.
"We have a building that is used for this, and classes are held there, but we've long wanted to have a facility that is more appropriate," Rounds said. The university project, still in the planning phase, includes a group of buildings located on the back of the property. However, he said, the project is being rephased due to cost estimates coming back "very, very high."
"So that is where we are at now. We are considering how to bring it about," he said. "We have been raising money for this for many years," Rounds added.
Asked how much it would take to build a new university, he said: "We are still struggling with that."