Devoted to Buddhist service
By Pat Gee, Honolulu Star Bulletin, April 2, 2006
The Komagata family has four generations of Hawaii ministers
Honolulu, Hawaii (USA) -- Some 600 years ago, the first Komagata became a Buddhist minister in Japan. Twenty-eight generations later, the Rev. Shuji Komagata became the latest. The minister of the Soto Mission of Hawaii in Aiea also is the fourth-generation Buddhist minister in his immediate family.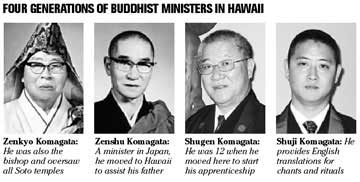 That's according to his father, the Rev. Shugen Komagata of the Soto Mission temples in Nuuanu and Wahiawa. Shugen was only 12 when he moved here from Japan in 1956 to start his apprenticeship, and didn't speak English. He has been positioned at the Nuuanu temple off and on, but became senior minister in 1998.
His grandfather, Zenkyo Komagata, was the first generation in Hawaii to be a minister of the Nuuanu temple, from 1919 to 1972. He also was the bishop, overseeing all the Soto temples.
Shugen's father, Zenshu, a minister in Japan, moved to Hawaii to assist Zenkyo from 1968 to 1975 and later became a bishop of the Soto system.
For a two-year period, from 1970 to '72, all three ministers were at the Nuuanu site, Shugen Komagata said. When people called and asked to speak to the Rev. Komagata, "we would have to say, 'Which Komagata -- the old one or the young one, or the middle-aged one?'"
"My father would say, 'I'm young, too!'" Shugen Komagata said.
In his first year as a minister of his own temple in Aiea, Shuji Komagata's major goal is to make Buddhism, characterized by ancient rituals and tradition, relevant to the lives of his congregation. He wants to "make this a Hawaii Buddhism" instead of just duplicating rituals.
Shuji Komagata, born in Hawaii, is one of the few to provide English translations before or after he chants, delivers a sermon or performs a ritual in Japanese.
"Before the service, I explain what we're doing so they get the most out of the services ... so they can follow and practice the rituals with full meaning," he said.
Most of his small congregation is of the nisei, or second, generation and can speak some Japanese, but not fluently.
"Ninety percent of them don't understand what they have been watching" after 50 years of attending Buddhist services until he explained it, they've told him.
"This is the excitement I feel in doing my job. I'm very humbled," Shuji Komagata said.
Many of the younger members of his congregation consider themselves Buddhists because their parents were. "But something is missing. It's a challenge to help transition them on the journey (to the point) when they can say, 'I am proud to be Buddhist,'" Shuji Komagata said.
Shugen Komagata said he fully supports his son's efforts to make Buddhism more meaningful, but he does not have the same sense of "urgency." He provides some English translation, but most of his members are as fluent in Japanese as he is, so he doesn't provide explanations in English as extensively as his son.
But he is proud of his son's passion and style of ministry. "He is local style; I am Japanese style," Shugen Komagata said.
He prefers to call himself a minister instead of a priest because "I minister to them instead of just preaching in the temple and waiting for people to come," Shugen said. "I have more interaction and listen to my members as much as I try to offer them (advice)."
Of following in the footsteps of three generations before him, Shuji Komagata said: "It's kind of a mixed bag. Of course I'm proud, but there are high expectations of me I have to live up to. People know what my family has done."
Shuji Komagata can't say when he felt a personal calling to become a minister. He does remember an elderly, longtime member of his father's temple coming up to him and saying, "I'm counting on you to become a minister. Please, please take care of my family." That incident made him realize that he "had to take it very seriously and become fully committed," Shuji added.
Shugen Komagata laughed upon recalling that he told his two sons "Congratulations" when they entered kindergarten, because "it is the custom to begin their training (for the priesthood) at the age of 5 or 6" in Japan. "They had no choice!" he joked, but his other son went on to another profession.