Magazine takes over Wesak event for one year
Mt Shasta Herald, November 24, 2004
Mount Shasta, Calif. (USA) -- The 11th Annual Wesak celebration, scheduled to be held at College of the Siskiyous in Weed April 22 to 24, 2005, is under the direction and control of Mount Shasta Magazine for the first time.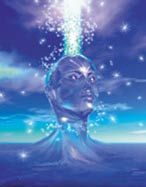 Dr. Joshua David Stone, the event's originator, will be taking a one year sabbatical and plans to return for 2006.
"Dr. Stone and I have been friends for years," said Dawn Fazende, the magazine's editor. "When he decided to take a rest he originally intended not to do an event this year. However, I realize how much the income from Wesak means to my community so I asked Dr. Stone if he would allow me to handle it this year. He was over-joyed to have us take it off his shoulders just this once."
According to a poll of Wesak attendees, each spends between $250 and $285 over the weekend they are here for food, gas and shelter. Calculations suggests that over the 10 years Wesak has been held in the south county it has put over $7 million into the pockets of local merchants.
"I know if we can make it through the winter to Wesak, we'll be all right for the rest of the year," said Kathy Lancaster of Village Books in Mount Shasta. "Wesak really jump-starts our season."
Buddhists worldwide celebrate Wesak as the birth of the Buddha. Southern Siskiyou Newspapers has featured articles from Shasta Abbey about the traditional interpretation of Wesak.
In another tradition, Fazende said Wesak is one of three powerful sacred events discussed in the Alice Bailey Theosophical Society materials. The first is at the first full moon in the sun sign Aries and is the Festival of the Christ. Wesak, in the full moon when the sun is in Taurus, is the Festival of the Buddha and The Festival of Humanity is held at the Full moon of Gemini, usually in June.
According to Bailey, the Buddha full moon is the time when Buddha and Christ come together in the actual Wesak Valley in the Himalayas to bestow combined blessings on the world. It represents a coming together of Eastern and Western philosophy. Dr. Stone's festival is based on this interpretation of Wesak.
At Mt. Shasta's Wesak event, well known presenters from all over the country speak of their newest teachings.
This year Fazende plans to have Ronna Herman, Norma Milanovich, Steven Halpern, Dr. Joe Dispenza (from the movie "What The@!$# Do We Know") and many other speakers.
Kathy Zavada and Erik Berglund will both offer their music, along with Paul Armitage and a few surprise guests, Fazende said.
"I am really glad Dawn is doing this," said Stone. "The nature of the event has a great deal to do with the consciousness of the person putting it on."