Sea of change: Rise and fall
By Stephen Magagnini, Sacramento Bee, June 14, 2006
Seattle, WA (USA) -- Father's Day 2005. As his shipmates on the Peace at Sea sought and lost fortunes, Phan Truong took a different path, coming to America not to get rich, but to worship freely.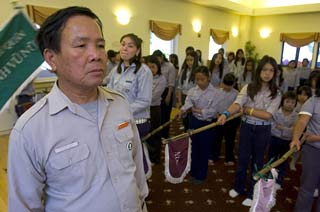 << Phan Truong works with young people at the Vietnamese Buddhist Youth Family of America. Sacramento Bee/Manny Crisostomo
Unlike his shipmates, today he has no home, no car, no money. He pays $4 a month rent to live in a public housing complex in south Seattle. He has not seen his wife or four of his children since he abruptly left them a quarter-century ago.
Phan, 63, remains an enigma even to his Buddhist colleagues, who marvel at his sacrifice because most Vietnamese immigrants value family ties above all else.
On one Sunday, he finishes his breakfast of tea and rice, then puts on a well-pressed khaki shirt. With matching pants and a green-felt ranger's hat, he's transformed from a poor, lonely immigrant into second-in-command of the Vietnamese Buddhist Youth Family of America.
"This is my family now," he says.
The Youth Family, which Phan helped start in this country, is the Vietnamese Buddhist equivalent of the Girl Scouts and Boy Scouts, with about 100 chapters. Under Phan's direction, counselors teach 15,000 Vietnamese Americans to honor their cultural and spiritual roots.
Today is Father's Day, but Phan's phone doesn't ring. There are no cards from Vietnam, or even from the two sons he sponsored to America in 1992, who manage nail parlors in Chicago.
There is no trace of Phan's family on the walls of his neat apartment either -- only photos of Vietnamese Buddhist martyrs.
Last year, while living in a friend's basement, Phan collapsed with a bleeding ulcer, unable to get up, and no one knew until he had missed several days of work.
Though Phan has come far on the path to enlightenment, he says he has not yet achieved the Buddhist ideal: to detach himself from suffering, loneliness, the pain of being estranged from his family. But he has the love and respect of youths across the United States -- many of them children of Vietnamese boat people -- including the 120 boys and girls he plans to address this afternoon at the Seattle Co Lam Temple.
The head monk, Thich Nguyen, says that before Phan, the organization struggled, with "people trying to go their separate ways. Phan was instrumental in pulling people together and calling for cooperation and unity."
Phan is on a mission. "I'm here not because I want to be here, but because the communists pressured me to leave the country. My main goal is to teach youngsters about Buddhism and Vietnamese culture, and they will spread that teaching to Vietnam, where the communists try to control mind and body."
Phan spent 12 years in the South Vietnamese navy and says he took a bullet in his left shoulder. After the communists conquered Hue in 1975, they imprisoned him for three years.
Upon his release, he was assigned to the fishing boat called the Peace at Sea, working under his cousin by marriage, captain Thong Nguyen. While fishing in April 1980, the captain whispered that he planned to flee the country and offered to take Phan along.
"I was given a day's notice," Phan says. "The truth is, I really did not want to leave the country, but I knew in my heart I wouldn't survive."
A sister sponsored him, and on Aug. 20, 1980, he landed in Virginia Beach, Va. Later, he moved to Stockton and followed the example of the captain and co-captain, picking whatever was in season, then starting his own gardening business.
On the Peace at Sea, Phan had looked after the captain's children as if they were his own. In California, he became an uncle to them.
Captain Thong's second daughter, Hong "Mitzi," went with Phan to the temple in Monterey every Saturday as a teenager. "He would teach me scriptures and Buddhist songs in the car," she says. "He taught me to be a good person. Of all the things that have shaped me, I think that's the major thing." She even considered becoming a Buddhist nun.
When Phan's legs and back gave out in 1996, he turned his attention to a new crop of Buddhists, moving first to Orlando, Fla., and then to Seattle to help expand the Buddhist Youth Family -- founding dozens of chapters. The job is all volunteer, leaving him to scrape by on food stamps and his $300 monthly Social Security check.
Asked if he has any family photos, he pauses, then heads to his bedroom, finally producing some yellowed snapshots of his smiling wife, surrounded by their six children.
The only person in the picture he has regular contact with is his oldest daughter, Hang, now 42. He talks to her just once a year, saying simply, "I don't have the money to call."
Phan stops to look at a photo of a blue stone building -- his house in Vietnam. "I miss it," he says softly. "After so many years, I forgot my marriage … It is OK if she finds another husband. I have chosen to sacrifice my family for the greater cause."
As Father's Day slips away, memories freshened by the photos seem to weigh on Phan. "I've been very lonely," he says. "I had every intention of returning, but there is still no freedom in Vietnam."
A few weeks later, Phan visits his sons in Chicago. It proves to be an uncomfortable reunion. Later, one of the sons says that while he still loves his father, Phan has never been much of a dad.
In January, shortly after his return to Seattle, Phan suffers a stroke. He slowly recovers, alone.