Bonsall residents protest proposed Buddhist temple
by Nathalie Taylor, The Village News Network Staff Writer, November 26, 2004
Bonsall, Calif. (USA) -- A group of Bonsall residents are in an uproar because of a proposed 22,000-square-foot Vietnamese Buddhist temple called the Dai Dang Meditation Center, which the Buddhists plan to build on Camino Del Rey in Bonsall.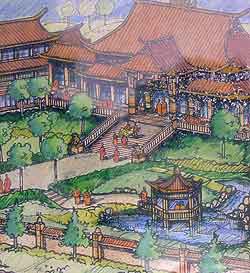 The residents have several concerns; however, the main concerns are increased area traffic and the suitability of the temple?s design in relation to Bonsall?s rural community.
Other concerns voiced by individuals are: decreased property values; health issues (an enormous septic system would be needed); noise pollution (gongs and chanting); and the fact that the large structure would be highly visible from Camino Del Rey, Avenida Magdelena, Dentro de Lomas and other areas along the Camino Del Rey corridor.
According to Marlene Brunthon, one of the residents, there are already 150 people coming to the site, which now has three buildings. Brunthon feels that her solitude is threatened. She has lived in Bonsall for 19 years and moved to the area for its quiet, rural atmosphere. ?There is a stable on the property that was converted to bedrooms without permits,? said Brunthon. She also said that there were 30 people living on the property ? property that should be used for a single-family dwelling.
Richard Blakley of Bonsall is concerned about the environmental impact of the project. ?There is not enough acreage and not enough flat land,? he said. ?It will also draw too many people for an area that is zoned for residential,? he continued. ?It?s upsetting that they want to force themselves on us. They are not what you?d call peaceful people.?
The Bonsall Sponsor Group, an appointed panel that reviews land use issues and makes recommendations to the county, voted against the temple.
On November 7 a group of citizens calling themselves the Bonsall Residents Action Group protested with signs in front of the existing buildings.