Nepalís Buddhist leader blesses West Marin
by Meghan Gilliss, Point Reyes Light, Aug 23, 2006
Marin County, CA (USA) -- It is becoming increasingly difficult for the aging Tibetan Buddhist Dhubthob Rinpoche to travel from his home in Nepal, where he is considered the preeminent spiritual leader, but he felt compelled to make a trip to West Marin.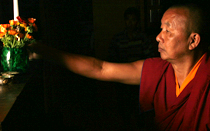 << Namgyal-la, who has been Dhubthob Rinpoche's attendant for more than 40 years, lit candles and poured saffron water in preparation for Rinpoche's entrance at the Bolinas Community Center on Sunday night. (Light photo by Meghan Gilliss)
Rinpoche, who performed blessings this weekend in San Geronimo, Inverness, and Bolinas, is hoping to refresh the connection between people here and at his monastic school in Nepal, which serves underprivileged children. The connection was established 11 years ago. Susan Shannon, touched by Rinpoche's altruism, co-founded the Himalaya Resource Center with the primary goal of supporting Rinpoche's school. Many of the non-profit's sponsors live in West Marin.
Forty people gathered in the incense-filled Bolinas Community Center to receive a blessing from Rinpoche (an honorific title literally meaning "the precious one in human kind," and which is given to lamas considered to be incarnations). Together, they donated $400 to Rinpoche's monastic school in Nepal, an amount sufficient to support the school's eight teachers for one month.
Some strolled in casually to see what the event was all about and left scoffing at the notion of religious healing. Others came wearing veneration on their calm faces as they settled into the four rows of chairs, awaiting Rinpoche's entrance, as organizers arranged and lit rows of warmly flickering candles. The members of the congregation rose in one great movement and bowed their heads as their blessor entered.
The ceremony began with an hour-long chant in Tibetan by Rinpoche and his attendant Namgyal-la. The atmosphere of solemnity was enhanced when, halfway through the chant, the electricity went out, leaving only the incandescent flicker of candles to illuminate the details of the scene: a tapestry of deep reds, blues and yellows – a thanka of White Tara, symbolic of long life, health and protection; a small golden bell and a dorje, symbolic of the male and female aspects of wisdom; and the ornate dishes filled with saffron water set out as an offering and invitation for enlightened beings to enter the room.
After the ceremony, Rinpoche advised a woman concerned with addiction to consider the short-term and long-term benefits of drug use. Getting high might alleviate pain temporarily, he suggested, but will not help us in our long-term lives.
In answer to another woman's question concerning a friend's suicide, he said (with the assumption that the crowd understood the gravity of discarding the human body, the rarest of all gifts according to Buddhist belief) that although suicide is a sin serious enough to land a soul in the lowest realm of hell, that soul might be redeemed through prayers and ceremonies performed by the living.