Garden Grove Buddhist temple, city make their case
By DEEPA BHARATH, THE ORANGE COUNTY REGISTER, October 17, 2006
Buddhists want to hold temporary services while zoning lawsuit moves ahead.
Santa Ana, CA (USA) -- A federal court judge heard arguments Monday from attorneys for a Garden Grove Buddhist temple and the city, but did not rule on whether the temple could temporarily hold services.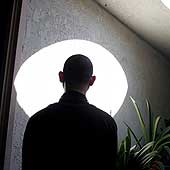 << CENTER OF CONTROVERSY: A federal judge will decide later this week whether the Quan Am Buddhist temple in Garden Grove can hold temporary services in an office building. - EUGENE GARCIA, THE ORANGE COUNTY REGISTER
Judge Cormac J. Carney had suggested last month that the city and Quan Am Buddhist temple officials work together to find a compromise that would allow the temple to conduct limited religious activities at its Chapman Avenue location until legal issues between the two entities are resolved.
The American Civil Liberties Union filed a federal lawsuit against the city in August challenging the constitutionality of the city's zoning code.
The Planning Commission and City Council have denied requests by the temple to rezone its property from "office or professional" to "residential."
The injunction came back to court Monday because the city and the temple had failed to reach an agreement.
Lois Bobak, an attorney representing the city, said the temple's abbot bought the nearly $2 million property based on "loose assurances" from some council members that the City Council would likely approve the temple's proposal.
The city wanted to preserve valuable and limited office space, which constitutes only 1.5 percent of the city's total acreage, she said.
Hector Villagra, an attorney for the ACLU, argued that city officials used traffic and congestion as a smokescreen to justify their "individual, discretionary assessment" on this issue.
The judge said he couldn't help but wonder whether the council was influenced by some vocal residents who oppose a Buddhist congregation in their neighborhood.
But councilmen Mark Rosen and Mark Leyes, who were at the hearing, said outside the courtroom that the council's intention was simply to preserve the integrity of the zoning code.
A ruling on the temporary injunction is expected later this week.