Temple hall concerns residents
By Jennifer McLain,SGV Tribune, Oct 23,2006
HACIENDA HEIGHTS, CA (USA) -- Some residents are still opposed to a cultural center originally proposed by the Hsi Lai Temple four years ago. Temple representatives opted to abandon the 2002 plan and rework it.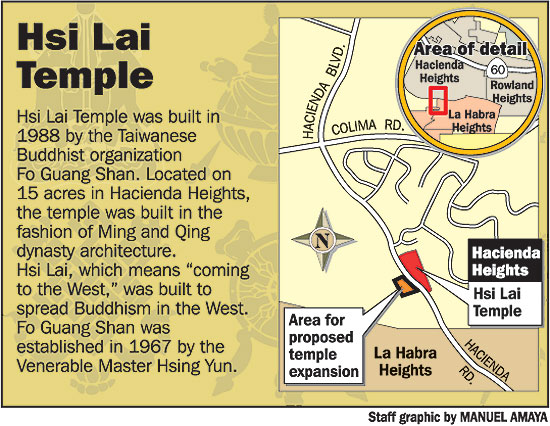 "We found out it was too huge a project," said Mae Chu, spokeswoman for the Hsi Lai Temple, about the planned 120,000 square-foot design.
Four years later and with a project that is one-third of the size, residents remain concerned about a new 40,000-square-foot facility they say will increase traffic and will require hillside grading.
"This is a very initial thought," Jimmy Lin, a Hsi Lai Temple representative, said to a Hacienda Heights community group last week. "We are as much environmentally conscious as the rest of the community."
The Hsi Lai Temple bills the expansion as a community center, open for both religious ceremonies as well as community events, representatives said.
The $10 million facility would be built on 26 acres across from the temple.
As proposed, it includes 20 multipurpose rooms, four congregate rooms, a multifunction stadium, which will include a basketball court, and a parking garage that will have up to 350 parking spaces.
Five acres will be used for the expansion, and the other 20 acres will be used for open space.
But the proposal shown to a Hacienda Heights neighborhood group Oct. 16 seemed more like a university than a community center, some residents said.
"I think all of us were kind of shocked at the scale of this," said Mike Hughes, board member of the Hacienda Heights Improvement Association. "We were told this was going to be a community center. This is a campus."
Hsi Lai Temple representatives said they have been working hard to get community comment, and will continue to do so by hosting public meetings in November, Chu said.
They have not yet completed an environmental review of the land, representatives from Los Angeles County Planning said.
The temple at 3456 S. Glenmark Drive was completed in 1988 by the Taiwanese Buddhist organization Fo Guang Shan.
It has attracted thousands of visitors and has seen its congregation grow to 10,000. It encompasses 15 acres and a floor area of 102,432 square feet.
Some think the residents have a hard time grappling with the growing Buddhist community in the area and that is why some are fighting the expansion.
"If this were a Methodist church, would you oppose the project?" Lin said to a resident at the Oct. 16 meeting.
Bob Henderson, a Whittier councilman and chairman of the Puente Hills Landfill Native Habitat Preservation Authority, said the temple invited the group to meet with them last month to discuss the expansion.
There are concerns because there are endangered species in the area, and it backs up to the wildlife corridor, an area that allows animals to roam, Henderson said.