Lotus Festival offers a peek into enlightened Buddhist world
By Bettyanne Bruin, Salt Lake Tribune, Nov 2, 2006
Salt Lake City, Utah (USA) -- The Tibetan Buddhist Temple in Salt Lake City recently showcased its less-serious side at the annual Lotus Festival.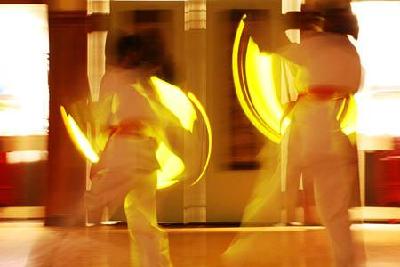 << The Lotus Festival at the Tibetan Buddhist Temple featured many forms of entertainment. Far left, dancers perform a glow stick celebration. (Photo courtesy of Marianne Brough)
The festivities at 740 S. 300 West featured martial-arts demonstrations of kendo, laido, tai chi and wing chun. Tibetan arts, children's crafts and a rare exhibit of Buddhist relics also were on display. Festive music and a silent auction added to the fun at the temple, otherwise known as Urgyen Samten Ling.
The festival's origins date back three years, when officials wanted to celebrate the temple's move to its current site with a grand opening.
"The next year we wanted to do something similar, so we decided to hold a festival," said Jean LaSarre Gardner, whose husband, Thupten Dorje Gyaltsen, is an ordained lama.
The couple studied in Nepal and Salt Lake City under Tsoknyi Rinpoche, who was the first spiritual head of the Urgyen Samten Ling form of Buddhism.
Tibetan Buddhists believe that truth is found through direct experience. They seek to realize the enlightened qualities inherent in all beings. They ponder and study to achieve compassion, wisdom and joy. When the body is at ease, they believe, breathing slows down and peace is achieved.
Gardner has been a practicing Buddhist for 16 years, and has made five trips to Nepal; her husband has journeyed there on about 20 occasions.
"We were married in Nepal in 1991," Gardner said.
The couple moved to Salt Lake City from Guam, lured to Utah by Salt Lake City's arts community and motivated by their desire to establish a Tibetan temple. Gardner and her husband co-own the Red Lotus School of Movement, which is housed beneath the temple.
She manages the school, directs its childrens classes and teaches a tot creative arts class. She also teaches creative dance at several area elementary schools. Her husband is the school's director and master instructor. With 40 years of martial-arts training and 32 years of instruction under his belt, he is well-qualified for the job.
"We provide classes in meditation and introductory Buddhism," Gardner says.
"This is a place where people can come and let go of day-to-day stress . . . Often I get people who come to the temple who have just lost a loved one and say, 'I just feel so much peace here.' "
The festival allows adherents and visitors to have fun as well. Gardner says she loves seeing all the people, "plus the pile of shoes." Festival-goers were invited to remove their footwear.
"It was such a relaxing environment," she says.
For more information about the Tibetan Buddhist Temple and the Red Lotus School of Movement, call 801-328-4629 or visit the Web at ttp://www.urgyensamtenling.org.