Tough-love remedy for an unruly teen: Two years. With monks. In Cambodia.
By Christine Clarridge, Seattle Times, Dec 5, 2006
Seattle, WA (USA) -- Chou Sa-Ngoun was desperate. Her teenage son was skipping school for weeks at a time, using drugs, getting arrested, staying out all night, hanging out with the wrong kids.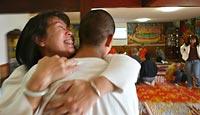 << ALAN BERNER / THE SEATTLE TIMES
It's unrestrained exuberance for Chou Sa-Ngoun as she hugs her son Michael on Saturday for the first time in two years. Michael returned last month after living for two years with monks in Cambodia. In a ceremony Saturday at Wat Khemarak Pothiram temple in White Center, Michael was freed of the monks' vow not to touch women — including his mother.
Nothing she did seemed to make any difference. Grounding didn't work. Neither did yelling, crying, taking away privileges, counseling, switching schools, probation or stints in juvenile hall.
She called the Army, but was told her son, Michael Sa-Ngoun, was too young to enlist. She begged for temporary placement in a foster home, but law-enforcement and social-service agencies said there wasn't much more they could do for him, or to him. He wasn't really that bad, they said.
"They said he's just being a teenager," she said. "They said they couldn't do anything until he did something more serious. But by the time he did something more serious it could be too late."
Finally, at the end of a family trip to Cambodia in 2004, Chou told Michael that they were leaving him behind. She, her husband and Michael's two younger siblings returned to their Tukwila home while Michael remained in a remote village to be raised and taught by monks in a Buddhist temple.
After two years of living as a monk in Cambodia, Michael, now 17, returned home Nov. 12 with a high-school diploma, job skills and a commitment, he said, to leading a "good life."
"I just felt different one day," he said shortly after his return. "I learned that you have to give up wanting things and accept what you are given. I learned about the afterlife and was taught that if you keep doing good, you'll have a good afterlife."
Chou doesn't know whether the change in her son will be lasting, particularly since he's back in the city where he once ran with the wrong crowd and was seduced by temptation. But she's hopeful the past two years living a life few Western teens will ever know will have a permanent and profound effect on her oldest child.
advertising
"I had tried every single thing I could think of," she said. " I thought this was the only way to save my firstborn."
Grounding didn't work
Michael began getting into trouble at school when he was 12. Then he started skipping school weeks at a time with the encouragement of some older neighborhood kids.
"I would drop him off at the front door [of the school] and he would leave out the back," Chou said.
He lied to his parents all the time, his mother said, made straight F's, ignored his chores and his curfew, and sometimes didn't come home at all.
Chou tried grounding him, taking away computer access and video games, and even locking him out of the house. But he always found ways around the restrictions.
One time, the school called her at her job at a medical clinic and said Michael was absent. She came home to find he'd broken into the house with a friend and was on the computer looking at porn and drinking beer.
In 2002, Michael got caught stealing merchandise from JC Penney. The next year he was charged with residential burglary and convicted of second-degree vehicle prowl and stealing a car.
One day, the police asked her to pick him up, but she refused. They kept him for one night but brought him around the next day. When she wouldn't let him in, he broke screens trying to find a way into the house. Another time, he came home badly beaten.
Looking back on those times, Michael says the only things he cared about were money and girls. Beyond that, the tall, thin young man has a difficult time explaining that part of his life.
"I guess I just didn't care," he said. "I was following the crowd, doing what was easy and fun."
Leaving him behind
When Michael was 14, Chou began planning a trip to Cambodia, her mother's homeland. Her husband — Michael's stepfather — suggested they leave Michael behind for a week or two.
"I thought that the hardship would be good for him," said Sanny Sa-Ngoun, a carpenter who was raised in Cambodia.
Neither parent had living relatives in Cambodia, but a friend from Bellevue suggested they leave Michael in the care of Buddhist monks in the town of Krolong, a tiny village in the Kampong Cham region with no electricity, no plumbing and no phones.
In November 2004, the family flew in to Phnom Penh and spent the first few days visiting great temples and cities. They eventually made their way to Krolong.
With a little more than a week of vacation left, Chou told Michael they were returning to the U.S. without him.
He raged at first and planned to flee, but didn't have money, a plane ticket or a place to go. Before his family left Cambodia, he went on a hunger strike and pleaded for another chance.
Chou told Michael that the only way he was coming home was if he lived for a time in the temple and changed his ways.
Michael realized he had no choice. He donned the orange robes of the Buddhist monks, allowed his head to be shaved and mouthed the vows.
He says now that he was resentful. He felt like he'd been abandoned in a strange country, where he didn't speak the language and hated the food. He missed the trappings of his former life: television, computers and his friends.
In the first weeks and months, Chou listened for a change in his attitude and voice whenever he called home. When she didn't hear it, she told him, "Just a little while longer."
A new world
Buddhist monks are similar to priests and pastors in some Western religions. Taking vows of celibacy, simplicity and service, monks conduct religious ceremonies and rituals and give blessings. They have often traditionally been the most educated people, passing their knowledge from one generation of monks to the next. They often filled the role of educators in many smaller villages.
The temple will take in any young man, regardless of race, background or financial ability, who is willing to study Buddhism as a monk. There is no financial cost or expected payback, but the families of many do make financial contributions to the village or the temple. Because the Sa-Ngouns did not want their son to take food from the mouths of others, they sent $100 for village use.
The Krolong temple and school, which was at the physical and spiritual center of the village, represented an entirely new world for the teen from Seattle.
In silence, Michael rose at 5:45 each morning. He drew buckets of water and laid out two rugs, two place settings and two towels for his teacher and the elder monk, whom he called "Grandpa."
He then set a place for himself, called the two and they ate their meal of rice and meat or fish together. He rested for 10 minutes and went to work outside on whatever needed doing around the temple and school grounds.
He and the other young monks learned to mix mortar, lay stone and build fences. They had friendly competitions to be the best. He began to understand and speak the Cambodian language, and then to study the Buddhist prayers and teachings.
"I learned to try to be free from wanting things, and I learned a lot about older people, how to talk to them and thank them," he said.
He washed at the water pump, and then he and the other monks would take containers and go from door to door among the villagers asking for food in exchange for blessings.
They could not refuse food or ask for more. "We took what was given to us," Michael said. That food was placed in a community dish and made up the monks' final meal of the day, which was eaten together at noon.
One night he had a dream that the 12 evil spirits that were part of his Buddhist teachings tried to keep him from living a good life. He was scared, he said, and when he woke up he found that he didn't see the temple, the village or the country as a prison anymore. He understood why his parents did what they had done.
"I got to thinking about it and figured out I was wrong. I was actually pretty bad," he said.
When he spoke to his mother the next time — about nine months into his stay — he told her he wanted to stay in Cambodia a while longer.
She arranged for him to receive study packets from a high-school correspondence course. He took tests online at an Internet cafe in a larger town where he was taken by a villager on motorcycle.
A few months ago, he received his high-school diploma. He told his mother he was ready to return.
Back home again
He arrived at Seattle-Tacoma International Airport last month still wearing his flowing orange robes. He still honored the monks' vows that, among other things, forbade him from touching women and kept him from hugging his mother.
He stayed up the whole first night watching TV, then slept, then watched some more TV. It looked to him like things had changed. "All the construction," he said.
The American food he'd missed so much tasted plain. And he's been overwhelmed by all the noise and activity.
He's been invited to say chants and prayers and give blessings at the Buddhist temples in Olympia, White Center and in people's homes.
"People bow down to him and ask for his blessing," his mother said. "That's how they show their respect."
In a traditional cleansing ceremony that the whole family participated in at the White Center temple on Saturday, Michael was freed from his strict vows, took off his robes and emerged wearing street clothes. The ceremony marked a rite of passage, his journey from Buddhist teachings back to his Western world.
He doesn't plan to renounce what he's learned. But he is now able to hug his mother and find a job.
His first goal is to petition the court to seal his juvenile records because that part of his life is over, he said, "and it's embarrassing." He hopes to land a job in a restaurant, and a portion of what he earns will be sent to the Cambodian temple — not because it is expected of him, but because he sees the needs, he said.
"They have very little," he said.
Michael and his family realize that the true test of his experience is yet to come, when he fully re-enters the world of teenagers and temptations.
But he said he's certain that he does not want to return to his old ways.
When he goes back to Cambodia, he wants it to be for a visit and not a sentence.
"I do feel wiser and more at peace," he said. "I thought that what my mother did was harsh, but I learned a lot about life and consequences. I saw poverty and learned how lucky I was."
"It was hard," Chou agrees. "But I saw where he was going and I said, 'I can't let this happen. I can't give up. If this is the only way to save my son and give him a future, then this is what I have to do.'
"I'm very proud of him now, and I'm very hopeful."