Buddhist teacher visits Alaska
By Layton Ehmke, Homer Tribune, December 13, 2006
Homer, Alaska (USA) -- Revered Buddhist teacher Khentrul Rinpoche said last week something that permeates through many philosophies, religions, theories, ideologies and doctrines — that freeing the mind of suffering is a path to achieving happiness.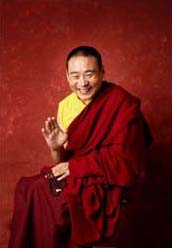 That takes what he called a pure heart — meaning holding nothing but pure intention for the well-being of others. Admittedly, he said, that can be difficult, because the easiest mindset places one's self as the center motivation.
Since the body and speech are servants to the mind, he said, the actions we take will reflect the thoughts.
"So, the most important factor is motivation," he said through his translator. "And the most honest way of thinking is the well-being of others."
And that takes a great deal of training, with that direct motivation in the forefront of the mind.
"Think about saints. They are considered as such because they helped others — not because they had a fixation on one's self," Rinpoche said.
Rinpoche visited the local Floating Leaf Sanga, last week as part of his recurring teachings in Alaska.
Approximately 30 to 40 people came to each of the three lectures by the highly revered Tibetan monk who was chosen at a young age to fill a venerated position. Rinpoche's three lectures covered "The Heart Essence of Mahayana," "Teachings and Practice," and "The Methods of Practicing Mahayana." Rinpoche stopped in Homer for two days as part of his America tour through the winter.
His training began with 15 years studying at the Katok Monastery in East Tibet, Khenpo Jigme Phuntsok's Serthar Buddhist Institute in Kardze, Tibet and Penor Rinpoche's monastery in Namdroling in India. Bergman said Rinpoche is acknowledged as a scholar of the highest level, and has twice been titled "khenpo," the equivalent of doctor of philosophy.
This was the teacher's fourth visit to the local sanga — something local Buddhists consider quite rare, especially in that there is a commitment from both sides to continue the series of teachings.
Local Buddhist Debbie Poore from the Floating Leaf Sanga said, to her knowledge, Homer has seen Buddhist teachings since around the late 1970s, and having a consistent, returning teacher is something the group has been striving for.
Poore said it is fortunate that Rinpoche is happy to teach in Alaska.
"He's a very good teacher and has an excellent interpreter, Paloma Landry, who was raised in Oregon. That means she has the Western perspective — and since she is fluent in Tibetan, she can give him insight into Western culture, which makes him a better teacher," Poore said.
Rinpoche's biography also notes he has taught many years in monasteries in Tibet and India, and is the abbot of Mardo Tashi Choling in eastern Tibet, where he established a retreat center and monastic center. He directs the education and spiritual practice of 300 monks, 70 advanced-degree students, 60 children and 20 who attend the retreat.
Last week's teachings began as Thaye explained a bit about Buddhism in general, defining the "dharma" from its literal Sanskrit translation, "that which holds." Rinpoche explained that when our minds are protected from conflict, they are protected from falling and suffering — that is the taming of the mind, that which holds us up from our more disturbing emotions, he said.
Ken Bergman said the lectures applied to anyone, regardless of their spiritual base.
For those who are not practicing Buddhists, the lecture might simply have meant that they realize they can become more mindful of their actions in the world as it applies to speech and action. Poore said since people do not have a choice about many of the things that happen to them, they still can make a conscious decision about how they deal with it.
"It's easy in our busy lives to feel road rage ... and in that moment we feel that, we can make a choice about the way we respond to it — whether we want to hold ourselves to a fleeting moment or stop that anger there," Poore said. "When everything feels like it's going wrong, we have to find our power in that situation. I think those are the big pieces that are universal."
Poore said that for the local group, having a teacher means they can be more serious about fully grasping not only the scholastic interest of Buddhism, but pursue a spiritual path.
Rinpoche's title denotes that he is a recognized reincarnated teacher, and he's also received several university degrees. He said with practice, people can find that peace starts within and spreads outward from there.
"Then it becomes a natural instinct to help others ... world peace starts from within," he said. "If everyone had that, the world would be one family. World peace would be the only answer."