Vipassana Santa Cruz finds a meditation center to call home
By Ewen Callaway, Santa Cruz Sentinel, January 14, 2007
Santa Cruz, CA (USA) -- Change is fundamental to Buddhism, but a meditation group that has gathered in living rooms, the Santa Cruz Zen Center and even a church is glad to finally have its own space.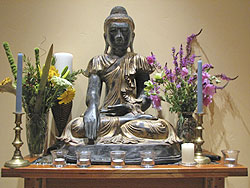 Vipassana Santa Cruz started 20 years ago as a group of a half dozen who met weekly to practice Vipassana, or insight meditation, a 2,500-year-old Buddhist tradition. As membership expanded, so did their demand for space. After outgrowing living rooms, the group held weekly classes at the Santa Cruz Zen Center and the Fellows Lodge of the First United Methodist Church. But to offer more flexibility to members, the group set out to find its own home.
In September, the group opened a meditation center in an industrial warehouse on the West Side. On Saturday, they held an open house to give the public a glimpse of the new space, an L-shaped room with bamboo floors, decorated with colorful flags and tapestries. A two-foot bronze Buddha statue sits on a small table at the front and large pillows and mats are scattered throughout the studio.
"It's wonderful to have a place of our own that people can come to anytime," said Isabelle Rosenlund, who's been a member for six years.
More than 300 people are on Vipassana Santa Cruz's e-mail list, and the group's teacher Mary Grace Orr estimated 150 people regularly attend meditation sessions.
Thanks to donations from members, Vipassana Santa Cruz obtained a five-year lease on a warehouse space at 1010 Fair Ave.
The group raised $40,000 to move into and renovate the new meditation center, said Orr. She said, in addition to money, people donated time and materials to renovate the center.
One night this week, 30 pairs of shoes were strewn outside the entrance, typical attendance for Vipassana Santa Cruz's meditation sessions.
Inside, Orr delivered a short talk and took questions from others, sitting atop large pillow.
"We're inhabiting a space of generosity," she said.
Vipassana Santa Cruz is a nonprofit and, following Buddhist tradition, charges no fees for its classes. Instead, the group relies on donations from its members.
Surging operating costs associated with the new space mean that Vipassana Santa Cruz is more dependent on these donations, Orr said. But, she and other members are excited for the opportunities their center has provided.
"It's enabled us to offer more to the community," said Heidi Rentería, a member since 1990.
The group has already expanded its schedule, offering weekend and early morning meditation sessions that were not possible when they convened at other locations. Beginning Jan. 17, the group will offer an introductory class on Vipassana meditation.
Official website: http://www.vipassanasc.org/