Lao gather at Buddhist Temple
By JULIA O'MALLEY, Anchorage Daily News, January 21, 2007
Family members feed, support the dead to draw their spirits closer
Anchorage, Alaska (USA) -- Kneeling before a towering, gilded Buddha, Phouvong Soneoulay lifted a morsel of sticky rice and placed it in a metal offering bowl. As it left her fingers, she prayed the nourishment would reach her husband, Soulideth, who died at this time last year.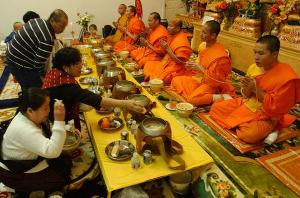 << As the monks chant, gifts of cash and food are offered in honor of Soulideth Soneoulay at a memorial celebration, Jan. 20, 2007, at Wat Lao of Anchorage, the new Buddhist temple in Mountain View. Once the gifts were presented, the monks partook of their daily meal; the community then joined in.
Along with six children and close to a hundred others, Soneoulay honored her husband Saturday at Wat Lao of Anchorage, a Buddhist temple in Mountain View. The small temple, which was completed last year, is the heart of the city's Lao community, where followers gather to grieve, worship and celebrate. It hosts memorial ceremonies like Soneoulay's at least once a month.
"Some come here for the meditation, some come for the monks, some come to gossip, some come to share food with the dead, some come for good fortune," said Soneoulay's daughter, Toc.
The 2000 census put the number of Lao people in Anchorage at about 1,400, but community members estimate there are now more than 2,000. About 300 families regularly visit the temple, according to the monks.
The temple is the latest addition to a compound of yellow buildings on Schodde Street, which are home to seven monks and one young boy, "a novice," or monk in training. The monks have no income and depend completely on offerings from the community.
Lao monks have been in Anchorage since the mid-1990s. For many years, the community gathered in a makeshift temple in a trailer on 36th Avenue. They moved to the Schodde property in 2001.
Just after 10 on Saturday morning, shoes began to pile up in the foyer of Wat Lao. Inside, the grass mats on the floor were crowded with families chatting and sipping bottled water. Babies toddled between mothers, aunts and cousins.
The monks, in their saffron robes, sat cross-legged at the base of the altar that held the large Buddha. In front of each monk were several offering bowls. They passed the microphone among themselves, murmuring prayers.
People pinned crisp bills together in chains that hung like leaves on the branches of a metal tree. Under the tree were a pair of Nike tennis shoes, a toothbrush, a white collared shirt, toilet paper and shampoo for the spirits of the dead.
"It is memory day for who has died before," explained monk Suvannahong Synuvong. "When somebody die, nobody know where they go."
With offerings of food and money, family members feed and support the dead, drawing their spirits closer, he explained. The offerings are eventually used to support the temple and the monks.
"We give it to dad, it pays the electricity, heat, everything," said Toc, sitting at the base of the money tree.
In the kitchen, half a dozen women worked preparing food. Chone Phengmanivong made green papaya salad, mashing strips of papaya, tomatoes, garlic, peppers, fish sauce, shrimp paste, crab paste and MSG in a large mortar. A mother now in her 30s, she came to Anchorage in 1991.
"Oh my God, a lot of Asian people here now," she said. "Everywhere you go, you looking for Asian people, you just go to the temple."
Phengmanivong lost her father recently and a friend, so the ceremony Saturday had special meaning, she said.
"I believe if you don't do the food for your parents, they are not going to be able to eat where they are," she said.
After Soneoulay made her offering, others lined up to fill the monks' bowls with dollar bills, rice crackers, tiny thimbles of lychee-flavored jello, Twinkies, and sweet rice steamed in banana leaves. Then, the monks chanted prayers and the people responded, bowing and placing their palms on the floor.
"I miss my husband," Phouvong said, as she filled trays with tilapia, greens, cake, spaghetti and squid for the feast that would follow. "But everybody coming (to pay their respects), so I am happy."