Meditators settle into new space of serenity
BY MAILE LESICA, The Herald-Sun, March 14, 2007
Chapel Hill, CA (USA) -- Om Mani Padme Hume. The four words resonate within the dimmed room where members of Piedmont Karma Thegsum Choling (Piedmont KTC) repeat this mantra. Piedmont KTC, a Tibetan Buddhist meditation group, is based in Chapel Hill.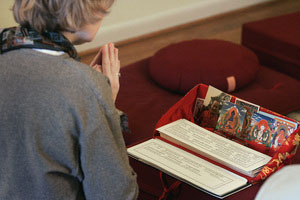 << Lucy Gorham participates in a chanting prayer practice at the Piedmont KTC Tibetan Buddhist Meditation Center on Sunday. The Chapel Hill-based group in December moved to a new facility at the corner of Perkins Drive and Weaver Dairy Road to provide members a larger space.
Although the repetition of a mantra, a religious prayer or poem, is an old and integral part of the Buddhist tradition, the room in which the group is meeting is new.
At the corner of Perkins Drive and Weaver Dairy Road, the room is part of an apartment in a nondescript duplex. Piedmont KTC moved to the new facility in December seeking a larger space to serve its members.
"We've stayed small over the years," said Lucy Gorham, a Piedmont KTC member. "This is the first time we've had a big enough space to accommodate more members.
The unremarkable building houses a group whose members aspire to a remarkable degree of contentment and peace of mind.
Through the teachings of the Dalai Lama, head of Tibetan Buddhism, people are beginning to grasp the peace that the practice of Tibetan Buddhism can create in one's life, said Piedmont KTC Director John Mader, 50.
"People realize that there might be ways of living that create happiness and peace of mind," Mader said. "These Tibetans have spent more than a thousand years refining methods to calm the mind and to increase the ability to be compassionate, to both others and oneself."
Tibetan Buddhism stems from Indian Buddhism and was officially brought to Tibet in 817 A.D. by Padmasambhava. Despite trials and persecution, Tibetan Buddhism evolved and developed into four schools. Piedmont KTC is of the Karma Kagyu school.
Tibetan Buddhism appears a complicated faith at first glance, but the Tibetans were very practical when planning it, Mader said.
"As complex as the faith is, you can enter and follow a logical path to understand the teachings and contemplate how they are relevant to your life, your practice and your meditation," he said.
Answers.com cites a U.S. State Department estimate that about 1 percent of the U.S. population practices some form of Buddhism.
Piedmont KTC member Geoff Driscoll, 57, has been a member of the group since its creation in 1981.
"We chant prayers and recite mantras while visualizing the Buddha," Driscoll said. "Through this process we begin to develop the qualities that Buddha exemplifies."
Members of Piedmont KTC meet on Sunday mornings at 10 to chant the prayers and mantras. On three Sundays a month, the members chant in Tibetan to the Buddha of compassion and to the Buddha of endless light to gain compassion and wisdom, and on one Sunday a month they chant to the medicine Buddha to achieve better mental and physical health, Driscoll said.
After chanting, they take a 15-minute break and then begin a sitting meditation until 11:45 a.m. On Wednesdays, beginning at 7 p.m., a sitting meditation is followed by a class on aspects of Tibetan Buddhism.
Newcomers need not have prior experience with Buddhism to attend a practice or a class. One of the benefits of the new location is there are now additional rooms where personalized instruction can be held for newcomers, Mader said.
"We're a friendly and open group of people, and very informal," Gorham said. "People can come when they need it, and leave as they wish."
"We want to be a resource for the Chapel Hill community," Mader said. "It's great to have the opportunity to tell people about our group if they are looking for a more contemplative lifestyle."
But Piedmont KTC doesn't have plans to try to expand its membership base.
"People may come and find a good fit -- others come and then find another Buddhist group, or return to their initial religion," Gorham said.
"Tibetan Buddhists always say there are lots of different religions for a reason," Gorham said.
Twelve core members choose Piedmont KTC as the place to routinely practice their religion. An additional 25 to 30 members come irregularly to the Wednesday or Sunday meetings. And about twice yearly, a Tibetan Buddhist leader comes to speak, drawing people from throughout the Piedmont to hear the leader's message.
The core members keep Piedmont KTC running financially. "We're committed to making these teachings and practices available," Mader said.
Donations are accepted and encouraged from individuals who feel that a Tibetan Buddhist meditation center is an important community resource.
And so, the Piedmont KTC is available to anyone seeking a more contemplative lifestyle. The mantra resounds as Chapel Hill and Carrboro residents meditate -- each working toward a deeper understanding of the Buddhist faith and a little peace of mind.