Buddhist monks build sculpture
BY TIMOTHY ALEX AKIMOFF, Statesman Journal, March 16, 2007
The design, called a sand mandala, brings healing
Salem, Oregon (USA) -- Kesang Dorjee, a Tibetan Buddhist monk, sits cross-legged on a pillow before a large red board. The board is on the floor of the Montag Center at Willamette University, surrounded by a ring of chairs facing out.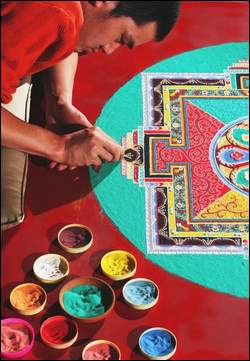 << THOMAS PATTERSON | STATESMAN JOURNAL
Tibetan Buddhist monk Lopen Kesang Dorjee builds a sand mandala, a form of meditation to bring healing and protection, at Willamette University. It is created a few grains of sand at a time during several days.
Millions of grains of colored sand are on that board, each having passed through the monk's fingertips to create an ornate design called a sand mandala.
A gallery of onlookers stands around with mouths agape at the artistry, and the knowledge that it will soon be swept away.
"I think it's really amazing. It takes so much patience," said Cami Taylor, a senior at Willamette University who stopped to see the mandala Thursday.
"It takes patience and a pure heart," the Venerable Lama Karma Namgyel said from his his seat where he prays for the work being done.
Mandala is a Sanskrit word meaning cosmogram, or "world in harmony," according to the Lama, who runs the Drukpa Mila Center in Boulder, Colo.
The Lama and Dorjee, his nephew, are at Willamette University building the mandala and teaching fundamentals of Tibetan Buddhism from their perspective as monks from Bhutan.
"Bhutan is the last Shangri La," the Lama said. The tiny Himalayan country is the last free Buddhist kingdom on earth, and as such, the Lama believes it is important to share those traditions.
The sand mandala on the floor of Montag Center is Dorjee's 18th. He's been building them since 2004, though he has studied for many years.
Dorjee, 23, is a teacher with the title of Lopen. His work with mandala is sacred and secretive, but he's happy to share it with people in the United States because of its healing nature.
With each grain of colored sand, quarried by Dorjee in the past several months, the mandala grows bigger hour by hour. He builds the mandala according to the four directions. His hands never tremble and his breath is slow and calm so as not to disrupt the design.
Lama said this mandala is a form of Chenrezig, the Buddha Compassion, but that there are thousands of mandalas.
"The mandala is healing," the Lama said. "When you build a mandala it protects that place from disease, from bombs and from natural disasters."
Mandalas are ancient traditions of Tibetan Buddhism, and Dorjee is one of eight professional mandala-building monks from Bhutan.
This mandala will be completed before Sunday's deconstruction ceremony where the Lama will sweep away the sand, giving it to those in attendance and pouring the rest into a flowing body of water to complete the circle.
"It's kind of like life that every little grain of sand or every little day comes out of your finger tips and we work so hard doing everything perfect," Taylor said. "Well, then it's all going to be distributed into nature and go back to where it came from."