Dalai Lama expected to pack Maui stadium
By Christie Wilson, Honolulu Advertiser, April 22, 2007
Maui, Hawaii (USA) -- Thousands are expected to fill War Memorial Stadium this week to hear Tibetan Buddhist leader Dalai Lama Tenzin Gyatso on his first visit to Maui, including 1,000 children from 34 public and private schools across the state.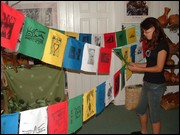 << Deni Montana examines some of the block-printed prayer flags children created for the Dalai Lama's visit. CHRISTIE WILSON | The Honolulu Advertiser
The Nobel Peace Prize winner and best-selling author of "The Art of Happiness" fled into exile in India in 1959 after a failed uprising against Chinese communist rule. He has become one of the world's most admired spiritual leaders and travels the globe sharing his teachings.
In anticipation of the 71-year-old Tibetan leader's visit, Michael Mancini, chairman of Haleakala Waldorf School, headed a Visions of Peace project that saw 5,000 students from nearly 50 schools statewide create prayer flags and submit poetry and essays celebrating kindness, compassion and peace in the Hawaiian culture.
The children also designed 8-inch fabric squares that illustrate the same theme and were compiled into an Aloha Peace Wall.
The artwork will be on display during the Dalai Lama's public events Tuesday and Wednesday and will adorn his quarters during his visit. He also will be presented with a book of poetry selections.
This will be the Dalai Lama's third trip to Hawai'i, but his first to Maui. He visited the Big Island and Honolulu in 1980 and 1994.
The Maui events kick off a U.S. swing that includes stops in San Francisco; Houston; Madison, Wis.; Chicago; Pioneer Valley, Mass.; Bloomington, Ind.; New York City; and Atlanta.
MANY FLYING IN
As part of the Visions of Peace project, Haleakala Waldorf eighth-grader Deni Montana wrote an essay that spoke of how one must experience pain and sadness to understand true happiness. She told The Advertiser that through the project, she learned that the Dalai Lama "is a great man who was exiled from his home for trying to bring liberty to the people. Despite that, he still continues to do great things for everyone, not just his country."

Dalai Lama >>
'Iolani School English teacher Peter Greenhill will lead a group of 67 students and adults on a daytrip to Maui and said excitement is growing as Tuesday approaches. Students at the Honolulu campus participated in a range of art and writing projects in preparation for the occasion and watched a video on the Dalai Lama's life and teachings.
The excursion is being organized by the school's Peace Institute, which promotes inner peace and peace in other people and the environment, Greenhill said.
'Iolani junior Makanalani Gomes of Waipi'o said that like many of her peers, she was unfamiliar with the Tibetan leader.
"When you tell a lot of people my age that we're going to see the Dalai Lama, a lot of them are, 'Who? What? Is that the guy from 'The Golden Child?' " she said, referring to the Eddie Murphy comedy film.
"There are so many bad things in this world and it's so easy to do something bad or negative, and here's a man whose whole life is based on peace," Gomes said. "It makes you feel like you want to be doing more to move away from negativity and toward a more positive mind frame."
Two Maui students will speak at Tuesday's event: Roland Lewis Zaleski, a senior at King Kekaulike High School in Pukalani, Maui, who won the Hawai'i Youth Peace Award for his essay; and Jessica Solomon, an eighth-grader at Clearview Christian Girls School in Pukalani, who will read her poem.
Members of Hawai'i's sizable Buddhist community also will be traveling to Maui to see the man known as His Holiness the 14th Dalai Lama, but he also has a devoted following of non-Buddhists who find resonance in his words during a time of world upheaval, sectarian violence and despair.
"It is not often one is able to meet first-hand a person who embodies the virtue, kindness and universal wisdom that we usually find so lacking in our public figures," said James Winkler of Kilauea, Kaua'i, who is planning to attend the Maui talks.
Winkler owns the Hale Lea Family Medicine clinic and is a director of the Hawai'i-based Amicus Foundation, which sponsors health, education and cultural preservation programs in Nepal, Tibet, Bhutan and Thailand.
"He carries a message of great hopefulness, and of the interconnectedness between all people. ... He highlights the commonalities that connect us rather than the differences that divide us," he said.
Michael Schwabe, head of the Wood Valley Temple on the Big Island, said he knows of 50 to 100 people who will be traveling to Maui, and more who would have gone if flights weren't so limited. The Buddhist teaching center and retreat in Pahala hosted the Dalai Lama during his previous Hawai'i trips.
Schwabe said the spiritual leader's magnetic personality, extemporaneous speaking style and infectious laughter make his appearances before large crowds seem like a personal audience.
"I've never heard him give the same speech twice, and I've heard hundreds and hundreds of them," he said. "For people who are Buddhists or non-Buddhists, he is such a charismatic figure, most people want to be around him. He's a great man, an extraordinary individual and very personable as a human being. There is no one like him. As a political leader, religious leader and spiritual leader, he's got it all. He's just got a winning way of communicating with anyone."
SECURITY TIGHT
The Dalai Lama originally was set to speak at the Maui Arts & Cultural Center, but the demand for tickets led organizers to the move the venue to War Memorial Stadium.
Shep Gordon, head of the Maui organizing committee, said at least 10,000 people are expected both days.
Because of the Dalai Lama's prominence, the U.S. State Department is involved in security and other arrangements. Gordon said metal detectors and other gear were imported from the Mainland, and those attending the stadium events will be subject to security measures similar to what they would face at airports.
Also imported for the occasion was a jumbo videoscreen for the stadium, and Gordon arranged for a live webcast.
Gordon, a longtime Wailea resident and entertainment manager who helped introduce Pacific Regional Cuisine to the world, said he first met the Dalai Lama on the Big Island and cooked for him in Trinidad.
"I really enjoyed the experience and decided I wanted to devote some of my time to spreading his word," Gordon said.
While on Maui, the Dalai Lama will participate in several private gatherings, including the blessing of a prayer stupa at the Maui Dharma Center in Pa'ia and a meeting with Native Hawaiian elders.
"There are so many commonalities between Tibetan and Hawaiian cultures ... in the loss of their land and their culture and their attempt to bring it all back," Gordon said.
Hawaiians and Tibetans are "inherently spiritual people struggling with displacement and the day-to-day challenges to regain their strength and heritage," he said. The two also share similar cultural attitudes about the natural environment and accepting newcomers into one's family, he said.
"Aloha and compassion are basically the same," Gordon said.
DALAI LAMA'S VISIT TO WAILUKU
The 14th Dalai Lama will speak from 2 to 3:30 p.m. Tuesday and Wednesday at War Memorial Stadium in Wailuku. Gates open at 10 a.m. for open seating.
DALAI LAMA'S MAUI VISIT
His topic for Tuesday's free public event will be "The Human Approach to World Peace." Tickets are $20 for Wednesday's talk on "Eight Verses for Training the Mind:
A Buddhist Philosophical Discourse."
For tickets: (808) 242-SHOW (7469) or www.MauiArts.org.
Limited parking will be available at the War Memorial Complex and Keopuolani Park; shuttle service from the Maui Community College grass lot Wahine Pio and the Wailuku Community Center will start at 9 a.m. No left turns will be allowed into the stadium parking lot from Kanaloa Avenue; motorists should approach Kanaloa from Kahului Beach Road.
Expect metal-detector and wand security searches at entrances.
No bags allowed, including fanny packs; take only what will fit in your pockets.
Bring identification, any needed medications, and cash for food and beverage purchases.
No coolers or chairs will be allowed; no outside food or drinks.
No cameras, video recorders or any photo or recording devices are allowed beyond security checkpoints.
Cell phones must be turned off; photos with camera cell phones will not be allowed.
Individuals with disabilities should contact the box office to make security accommodations.
WEBCAST
A live webcast will be offered to those with broadband computer access at tibetfund.org.