Celebrating path of Buddha
By L.A. Chung, San Jose Mercury News, May 23, 2007
San Jose, CA (USA) -- How does one go all out to celebrate the Lord Buddha's birthday, American-style?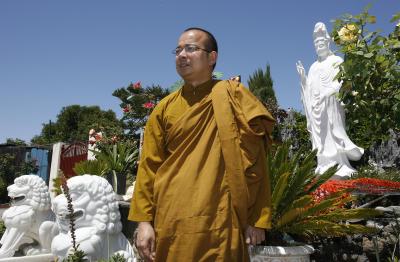 << Rev. Giac Dang stands with the Goddess of Mercy on the grounds of the Chua An Lac Buddhist temple in San Jose on May 21, 2007. The temple is preparing for a huge birthday celebration for Buddha to be held at the Santa Clara County Fairgrounds this weekend. (Gary Reyes/ Mercury News) ( Gary Reyes )
With a free, public party at the Santa Clara County fairgrounds on Friday and Saturday. Throw in a parade, fireworks, dharma lectures, singers, performances and a cornucopia of vegetarian food, and you'll have a celebration that's spiritual and inclusive for Buddhists and non-Buddhists alike.
And that's precisely the point.
"More and more people are finding out about Buddhism and meditation," said the Ven. Thich Nu Nguyen Thanh, the 67-year-old abbess of the Chua An Lac Temple, tucked on a side street off Alum Rock Road. "The spirit is higher and larger this year."
The diminutive abbess is the chief organizer for the two-day event, called Vesak, which celebrates the Buddha's birth in 563 BC in India, his enlightenment and his death.
The most important celebration in the Buddhist calendar, the Buddha's 2,631st birthday officially fell on this month's full moon, May 2. But, as with many celebrations in this country, the observance has been shifted to a weekend so more people can participate.
Nguyen has invited 50 monks from around the United States and Asia, including Sri Lanka, Laos, Tibet and Burma. She is the treasurer of the United Buddhist Congress of the United States, which is welcoming to San Jose's Vesak the three major schools of Buddhism practiced today: Theravada, Mahayana and Vajirayana. Buddhism attracts a wide range of adherents, from immigrants
Advertisement
who were born into a particular tradition to those, both Asian and non-Asian, who converted from Christianity and other religions.
"One thing that is interesting, is that Buddhists of all schools are together," said the Ven. Giac Dang, a monk from Houston who was in San Jose early for the celebration. "This is rare."
Dang is from the Theravada school, while his host, Nguyen, is from the Mahayana school. "There are a lot of differences, but when we come together, we celebrate Buddha."
During the two-day event, there will be re-enactments of scenes from the Buddha's life. These trace his beginnings as a high-born prince, his decision to renounce wife, child, and all earthly luxury, his years of asceticism and enlightenment, the 45 years teaching and traveling the Ganges plain, and ultimately to his physical death and nirvana at age 80.
There will be a main altar, boasting three large Buddha statues and a sacred relic. Dharma lectures will be bilingual, in English and Vietnamese, and will include an update on the status of the United Buddhist Church, which has been outlawed in Vietnam.
"We monks talk a lot about how to be at peace with yourself and how to handle the stress of the modern world," Dang said.
For those who want to participate, but are a little hesitant because they are unfamiliar with Buddhism, the abbess said that bringing flowers and then offering up a prayer for the world is a simple way to take part in the festivities.
Friday night features the lighting of Dharma lights in the Eight Righteous Paths Pond. Most of the events, though, are on Saturday, starting with a small parade from 10 a.m. to noon from King and Senter roads to the fairgrounds. On both days there will be lectures and exhibits of Vietnamese books, arts and materials. And, there is a decidedly non-Buddhist lineup of entertainment, including several singers and a bird show. Fireworks are planned for 9:30p.m. Saturday.
Nguyen, who entered monastic life in Binh Dinh, Vietnam, in 1957 and was ordained in 1965, has spent most of her 67 years on charity projects here and in Vietnam.
She has presided over the temple and nunnery in East San Jose since 1988, when she moved from the Uu Dam Buddhist Temple in Marina, near Monterey, to San Jose. The community first operated out of a house, then in 1993 purchased a former church on East San Fernando Street, slowly transforming it into the Chua An Lac Temple.
Inside, the soaring beams of the church's former chapel and its original pews are recognizable. Outside, it is adorned with bright green roof tiles from Vietnam, and the iron fence carries Buddhist motifs. Living simply, they cultivate a garden on the grounds, provide a peaceful place for prayer and meditation, and teach Vietnamese.
Last year, at Andrew Hill High School, 5,000 people were expected for Vesak, but rain greeted them the morning of the celebration. Surprisingly, they got 8,000, said Hoang Yen, the coordinator of this year's event. This year, organizers are preparing for 10,000 people at the fairgrounds and they may get 20,000 over two days.
"We hope that word goes out to create more goodwill for the world," Nguyen said.
And that, American-style or otherwise, is something worth offering.