Seeking freedom of the mind
BY SHAWNA GALASSI, New Times SLO, July 11, 2007
Local Buddhism teachers share with the men of California Men's Colony (CMC)
San Luis Obispo County, CA (USA) -- Every Wednesday night, between 25 and 60 men gather in an austere cinderblock room just north of San Luis Obispo, positioning themselves on pillows or metal folding chairs for a half hour of meditation, followed by a talk on Buddhism.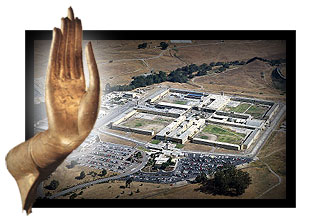 << California Men's Colony (CMC) facility in San Luis Obispo County, California
The men sit in a circle facing an altar adorned with incense and a small Buddha. On one recent night, as one of their teachers gently instructed them to breathe deeply and quiet their minds, the men worked to tune out the noises the loud music and voices that drifted into their sanctuary. In this case, the noises were from the prison yard of the California Men's Colony.
This is one of the most thriving Buddhist groups in San Luis Obispo County, and it meets behind locked gates.
Many paths
As Mike Sievert, assistant to the warden, observed the California Men's Colony Buddhist group for the first time, he marveled that there were no cultural or age barriers in the room.
"All that gets left at the door," responded Thomas Fox, who founded the group 12 years ago with a handful of other inmates.

Another inmate, Robert Ripley, mentioned that when a transsexual member of the group died recently, the entire group attended a ceremony for him.
"We showed no boundaries in our caring for one another," Ripley said. "No race, religion, or sexual divisions."
The group is led by two local teachers Mark Bloodgood, founder of San Luis Obispo Zazen Group and Nancy Hilyard of White Heron Sangha who volunteer their time each week, and two priests from the Zen Center of Los Angeles, Nagy and Koan, who volunteer once a month.
During the priests' April visit, the meditation was followed by private interviews with Nagy for those who had questions about their practice. The others sat attentively and listened to Koan discuss peaceful ways to deal with suffering and disharmony in the world. The discussion was shorter than usual so that a visiting reporter could ask the inmates about their practice. The inmates weren't at all disgruntled by this interruption to their service, and, in fact, were eager to share the positive impact Buddhism has had on their lives.
"I think this group has really saved my life in many ways," Ripley said. "It's helped me deal with life in prison, deal with my own shortcomings, and with being introspective."
Ripley, who said he reads all the Buddhist material he can get, said the real benefit to Buddhism is "understanding where your own emotions are coming from and [learning] to be mindful of your reaction."
Laos Chuman, chairman of the Buddhist group, said he's learned to be more aware.
"I don't get upset over the small stuff. A lot sheds off me," he said.
Another inmate offered, "Everything I've done in life has been motivated by fear or anger. I didn't know that until I came here."
Ripley said that such a lack of awareness was what caused most of them to end up in prison in the first place.
"Buddhism calls on us to act aware," he said. "It also leads us to respond instead of react to situations. That response leads to less criminal behavior."
Fox credits Nagy with teaching them the necessary awareness.
"He taught us that every action and thought has ripples. That had the biggest impact on me," Fox said.
Fox, who's been in prison for 27 years, said that for the first decade he was "angry as hell." Now, even the guards recognize his peaceful demeanor and they send new inmates with anger problems to talk to him.
"That must mean I'm not the asshole I used to be," he said with a laugh.
Inmate Neil Stanford said, "This is the noisiest quiet time I get. It's about finding peace for myself so I can express it."
And express it, the inmates do. It was members of the CMC Buddhist group who came up with the idea for the prison hospice program, which trains inmates to offer supportive care services to dying inmates. And they're the first prison Buddhist group in the country to become part of the Buddhist Peace Fellowship, a worldwide community working for peace and social justice.
The group's hopes for the future include a full-time monk, their own chapel, and multi-day retreats. Bloodgood said that studies show that retreats lower the violence rate in prisons and decrease recidivism. He mentioned a documentary, Doing Time, Doing Vipassana, that shows a 10-day retreat in an India prison and the impact it made.
Bloodgood said he's seen a complete metamorphosis in the inmates in the four years he's been volunteering with the group.
"I see a transformation in their ability to deal with their environment and their anger issues," Bloodgood said. "Many of them are lifers and they accept that. They use that environment as a monastic environment."
"I hope [the group] keeps going," said Mark Cadiz, one of the inmates. "It serves a purpose in the institution. And it serves a purpose for people looking for a new path."