Buddhists celebrate ancestors at Obon festival
By Triveni Sheshadri, Sign on San Diego, July 21, 2007
VISTA, CA (USA) -- Some of June York's fondest childhood memories have to do with going to the Obon festival with her family. She remembers the excitement that built up before the celebration each year at an Orange County Buddhist temple.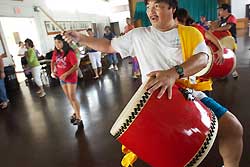 << Obon, celebrated by Japanese Buddhist temples everywhere, is a joyous gathering of people with drumming, dancing and food (filepic)
"I loved to dress up in the yukata, playing games and meeting friends," York said.
She has kept up the tradition since moving to Carlsbad six years ago by taking part in Vista Buddhist Temple's annual Obon celebration. She said her two sons, Derek, 13, and Austin, 12, look forward to the music, dancing and food at the festival.
York is one of the organizers of the two-day event on July 28-29. "We plan for it year-round," she said.
Obon, celebrated by Japanese Buddhist temples everywhere, is a joyous gathering of people with drumming, dancing and food.
The Rev. Lee Rosenthal of the Vista Buddhist Temple described the festival as a coming together of all people to honor their forebears.
"We celebrate human life," Rosenthal said. "We stand at the pinnacle of all species. We are celebrating each other's cultures and the entire human race collectively."
The focal point of Obon is the Bon Odori dance. Circles of dancers move around a taiko drummer, who stands atop a raised platform.
"It's like line dancing in a circle," said Sandy Muryasz, a congregation member who is one of the event organizers.
The public is welcome to join the dance, which will begin at 6:30 p.m. both days. There is no dress code. Folks can wear the yukata, the Japanese summer kimono, or come in shorts and T-shirts.
"You don't have to be an expert," Muryasz said. "We have experienced dancers in the inner circle. You just follow the simple, repetitive movements. It's more about why you are dancing. You have gratitude in your heart for those who have passed on. That's the spirit of the festival."
Visitors will have the opportunity to see performances by the temple's 20-drum adult and junior taiko ensembles as well as the Orange County Buddhist Church taiko group. There will be an array of Japanese food including sushi, teriyaki and yakisoba. Muryasz said another culinary draw would be the takoyaki, a sweet that looks like a muffin.
"It's made of pancake batter and filled with sweet bean paste," she said. "We are going to try variations with Nutella and lemon fillings."
There will be a sale of plumerias, orchids and bonsai plants as well as Japanese art and craft items. Other highlights will include performances on the shakuhachi, a Japanese bamboo flute; demonstrations of calligraphy and brush painting. Rosenthal will make presentations on Buddhism. Members of the Southern California Koto Ensemble will offer lessons on how to play the koto, a harplike stringed instrument.
The Vista Buddhist Temple was established in the early 1980s, Rosenthal said. It is aligned with the Buddhist Churches of America. The temple offers weekly services and the Dharma School for children. The Obon festival has been celebrated at the temple since it opened its doors.
"It's a wonderful community event, a lot of fun," Muryasz said. "It's also a opportunity to learn about Japanese culture."
Obon festival
When: Noon to 8 p.m. July 28-29
Where: Vista Buddhist Temple, 150 Cedar Road, Vista
Admission: Free
Information: (760) 941-8800