Celebrations especially poignant after iconic dance teacher's death
By Jennifer Torres, Recordnet.com, July 26, 2007
Stockton, CA (USA) -- The dances of Obon - the Bon Odori - celebrate the lives of ancestors and expresses gratitude for their sacrifices.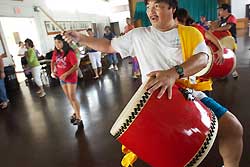 << Obon, celebrated by Japanese Buddhist temples everywhere, is a joyous gathering of people with drumming, dancing and food (filepic)
Michiko Ryuto learned the Bon Odori as a teen, and for more than 50 years, she taught the Japanese folk steps to children at Stockton Buddhist Temple.
"It's a memory of the people who've passed on before us," she said last summer. "To let them know they're not forgotten."
In May, at age 74, Ryuto died, leaving the tradition she cultivated to the care of former students who grew up associating her with the Buddhist holiday of remembrance.
"For many of us, this whole festivity just reminds us of her," said Candice Hayashi, temple president. "That's how we grew up. We associated her with this time of year."
Obon, celebrated Sunday and followed with a cultural festival this weekend, is a religious observance that honors the dead.
Essentially, said the Rev. Charles Hasegawa, it reminds believers of their connectedness with all others and urges them to drop self-centered tendencies.
"There have always been, from the deceased, prayers, love extended to the surviving members of the families," Hasegawa said. "They return the same sense of love and missing them."
Ryuto was known as a teacher of Obon dances, he said. "She was the one who would lead all the dancers into the circle."
This year's Bon Odori was dedicated to all those who have died, Hayashi said - but especially to Ryuko.
As a child, Hayashi said, she admired Ryuto's dancing.
"All my life, that's how I remember her," she said. "Michiko and her sister. They were the ones that I used to like to try to copy. They were really elegant. ... Sometimes you'd get the dances mixed up. She'd just smile and shake her head."
Setsuko Ryuto recalled learning the Bon Odori alongside her sister at the home of a Japanese dance instructor.
When she was about 19, Michiko began teaching at the temple's Dharma School. She would remain an instructor there for 55 years. During that time, as instructors married and moved away, she eventually took over dance instruction, her sister said.
"The church and the children," Setsuko Ryuto said, "were her principal love."