Relics of Buddhist spiritual leaders go on tour
By Jennifer Garza, Sacramento Bee, August 15, 2007
Auburn, WA (USA) -- The pearl-like remains are believed to be the cremated ashes of 25 Buddhist masters. For thousands of years, these relics have been stored in temples, monasteries and stupas -- sacred Buddhist shrines -- throughout Asia.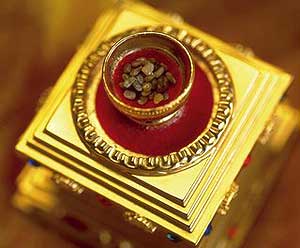 << This reliquary, part of the Maitreya Project collection, is said to contain the ashes of Ananda, one of Buddha's disciples. Maitreya Project
Now they are available for the public to see.
The remains, including relics of Shakyamuni Buddha -- born Siddhartha Gautama 2,500 years ago and known as the Enlightened One -- are on a worldwide tour that stops in Northern California this weekend.
The Heart Shrine Relic Tour will be on display Friday through Sunday at the First Congregational Church in Auburn. Admission is free.
Organizers say the tour is unprecedented in terms of the number of relics that can be seen and their significance.
"For some believers, it's as if pieces of the cross were in town," says Stan Padilla, one of the organizers and a representative of the Placer Arts Council, which is sponsoring the exhibit.
The collection includes relics from Buddhist masters from various traditions, including Ananda, Shariputa, Lama Atisha and Lama Tsongkhapa. The remains were donated to the tour by museums, monasteries and spiritual leaders from all over the world, including the Dalai Lama.
Believers say the relics inspire those who see them because they embody the masters' spiritual qualities, such as wisdom and compassion.
"People have said they feel an inner peace after seeing them," Padilla says.
The relics will surround a life-size golden statue of the Maitreya Buddha, the next Buddha to teach "the path of loving kindness in the world," according to the news release for the event.
There will also be blessing ceremonies during which the relics are placed on the head of a visitor as a special blessing. Padilla says this will be an ecumenical and cultural event.
The relics are on tour to publicize the Maitreya Project, the building of a 500-foot-high bronze statue of Buddha in northern India by 2010. The statue will be the centerpiece of the project, which will include temples, exhibition halls, a museum, library and audiovisual theater, according to the Maitreya Project Web site.
After the tour is completed, the relics will be placed at the heart of the statue devoted to Maitreya, the name given to the next Buddha.