Buddhist Roots
by Mary Adamski, Honolulu Star Bulletin, Sept 15, 2007
Foster Gardens' bo tree, venerated in Buddhism, traces its heritage to the site of the philosophy's original founding
Honolulu, Hawaii (USA) -- The big old bo tree at the entrance to Foster Botanical Gardens will be the backdrop for a public birthday festival next Saturday morning.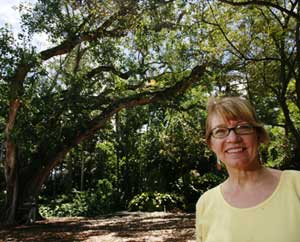 << Photo: CINDY ELLEN RUSSELL
Kathy Tosh, Friends of Honolulu Botanical Garden's administrative coordinator, showed the garden's Ficus religiosa, or Bodhi tree, which has history all the way back to the tree under which the founder of the Buddhist philosophy gained enlightenment.
The accent will be on Mary Robinson Foster, the generous kamaaina who left the paradisiacal park to the people of Hawaii. The celebration will reflect Foster's interest in Buddhism, with taiko drummers, Thai and Tibetan dancers and some invited guests from Oahu temples. The party from 10 a.m. to noon, garden tours and plant sale are open to the public.
In 1893, Foster met a famous teacher from Ceylon, now Sri Lanka, and found solace in the Eastern religion she heard about from him. "She went a little bonkers after her husband died," said Paul Weissich, chairman of the celebration and former director of the gardens. "What she learned from Dharmapala calmed her."
She donated large sums of money to a Buddhist organization in Ceylon and a children's hospital that was given her name. She also gave a parcel of land on Pali Highway to the Honpa Hongwanji Mission. "There's no concrete evidence she converted to Buddhism; she was, in soul, a convert," said Weissich.
Meanwhile, back to that big old tree. The bo tree is common to northern India. It is a plant that is sacred to Buddhists and Hindus, reflected in the name scientists gave it, Ficus religiosa.
The Indian Prince Siddhartha Gautama, who founded the Buddhist philosophy, achieved enlightenment while meditating under a bo tree more than 2,500 years ago. Bodhgaya, India, is venerated as the actual site where he reached the perfect state of clarity after mulling over the ultimate meaning of life. A bo tree still stands there, considered to be a descendant of the historical one. Pilgrims hang prayer scarves on it and surround it with flowers and lamps.
Well, ta-da! the Foster Gardens tree has its roots in that sacred tree. In 1913, Dharmapala brought a small sprout of Ficus religiosa to Mary Foster, and it flourished in her garden. That cutting came from a bo tree in Sri Lanka. The back-story on the Sri Lankan tree was that it was planted in 288 B.C., a cutting from the original bodhi tree in Gaya.
"It has a kind of sacred heritage," said Bishop Yoshiaki Fujitani, president of the Buddhist Promotion Society. But, he said, "No one makes a fuss about it, especially not here."
The reason the tree did not become a shrine here is because the Buddhism brought to Hawaii by Japanese immigrants is of the Mahayana tradition of Buddhism, in which "the emphasis is more on the spirit than the word, emphasis on compassion, doing good works," said Fujitani.
Veneration of the tree by pilgrims would be more likely in the Theravada branch of Buddhism, found in South Asia and Tibet, which focuses on the life of Buddha, he said.
"In Thailand the tree would be wrapped in cloth," said Chaminade professor Poranee Natadecha-Sponsel, a Thai Buddhist. "Perhaps a reason that doesn't happen here is that it is in a public place, not at a temple."
Bo tree leaves are beautiful with defined ribs and a long kitelike tip, a common motif in Buddhist art. Friends of Honolulu Botanical Gardens has adapted it as its logo, which appears on tote bags for sale in the gift shop.
Through no fault of its own, the Honolulu tree does not exactly inspire meditation. Thanks to living long years too close to a spreading banyan tree, its uneven growth makes it seem to be leaning to the right. The banyan tree has been chopped down. But there is no grassy lawn under it, just a thick crunchy layer of leaves, wood chips and pods, water-holding mulch that is good for the tree but not conducive to sitting in meditation or a nap in the shade.
There are other bo trees in town, one at Honolulu Myohoji Temple on Nuuanu Avenue, where the Rev. Eijo Ikenaga recently brought in tree trimmers to shape the 75-year-old tree. Another is at Jodo Mission on Makiki Street, which will be the site of the Hawaii Buddhist Association's annual Bodhi Day celebration of Buddha's enlightenment in December.
There is a bo tree in front of the social science building on the University of Hawaii-Manoa campus that allegedly started as a sprig from the Foster Garden tree, so you know where that provenance leads.
"I tell my students to go sit under it and see if it works," said UH religion lecturer Jay Sakashita.
"I don't think people really want to know if it is an actual descendant of the original tree," Sakashita said. "I don't think it would matter. If you believe it is a descendant, even if scientists would prove different, it would not shake your faith."