Visalia Buddhist Church marks its centennial anniversary
By David Castellon, Visalia Times-Delta, Oct 20, 2007
Visalia, CA (USA) -- In the late 1800s, a Japanese immigrant community began to grow in the Valley, initially to farm or work for railroads.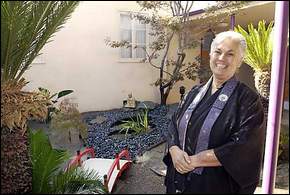 << Jo-Ren MacDonald of Visalia Buddhist Church
Eventually, a Japanese business community grew in Visalia along what is now East Center Avenue.
Buddhist priests from Japan occasionally traveled through Visalia to perform weddings, funerals and other events for the Japanese immigrants. But worship services occurred only occasionally and often without priests, said Jo-Ren MacDonald, 66, the kaikyoshi, or priest, for the Visalia Buddhist Church.
Finally, the numbers of Japanese immigrants grew to the point that several from different Buddhist sects came together to form one church and request a priest from Japan, who arrived in 1907.
This month, the church is celebrating its 100th anniversary.
Services were held in several buildings on Center as the priest split his time between congregations in Visalia, Corcoran and Hanford. In January 1941, a temple was built in the 500 block of Center.
Eleven months later, the Japanese attack on Pearl Harbor led the U.S. into World War II. The following May, Japanese Americans in Visalia and all along the Pacific Coast were sent to internment camps for the duration of World War II.
Many stored their belongings in the temple, MacDonald said, watched over by hakujin, Caucasians who also took care of farms, homes and businesses.
When those interned returned to their homes after the war, MacDonald said, the temple became a "social place of safety," as many people of Japanese descent developed isolationist attitudes that lasted years after the war.
The temple, office and priest quarters were rebuilt in the late 1960s on the same land.
Whether its members met in homes or meeting halls or an actual temple, over the past century this church has been vital to the Japanese and Buddhist community here and around Visalia, said Ellen Tanimoto, 68, of Porterville.
A tragedy — the death of her second child during birth — first brought her to the Visalia temple. But she soon found it a good place to connect with her Japanese roots.
"The only reason I joined the temple was there weren't that many Japanese people in Porterville," she said. "And I wanted my children to meet other Japanese."
It was for similar reasons that the Japanese immigrants first began meeting together in the early part of the last century, MacDonald said.
Certainly, religion was part of it, she said. But not everything.
"It is a social gathering if you think of people who speak the same language from another country and like the same foods and their children could marry each other," she said. "I think what it meant was you could find a husband or a wife; you could practice your spiritual beliefs."