Shaolin monks bring schools to Bay Area
By Matthew Artz, Inside Bay Area, Jan 21, 2008
FREMONT, CA (USA) -- All it took was one Jet Li kung fu movie for Shi Yanran to know what he wanted to do, way before he was all grown up.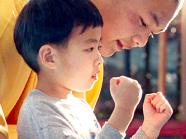 << MASTER SHI YANXING INSTRUCTS student Kevin Lai , 6, of Fremont during a kung fu class
The 25-year-old Buddhist monk was just 6 years old when he watched "Shaolin Temple" on video.
He was so transfixed by the fighting scenes and the 1,500-year-old Buddhist monastery that gave birth to kung fu that he talked his parents into traveling 400 miles to the monastery and letting him seek admission.
The monks rejected him at first, but when he returned with his parents just two years later, he was accepted and left his family for good.
Now, 17 years later, Yanran has been sent on a new journey.
Since last year, he and 15 other ordained Shaolin monks have been living in a San Jose artist housing complex and teaching their ancient blend of martial arts and Buddhism to students in Fremont, their U.S. headquarters, and two other Bay Area cities.
Traditionally, the monks only train those who traveled to the remote monastery in the foothills of China's Songshan mountains or their other satellite monasteries in China. But the current abbot determined that Shaolin culture eventually would wither if they didn't try to spread their teachings, Yanran said through an interpreter.
Fremont was chosen as one of three Bay Area locations —San Jose and Millbrae are the others — because of its large Chinese population and overall diversity.
"This is a good place to reach out to different communities,"
Advertisement
said Yanran, who is director of the Fremont school.
Kirk Graebe, a former martial arts instructor, did a double-take the first time he drove past the school - a former auto repair shop - at the corner of Peralta Boulevard and Dusterberry Way.
"I said, 'Right, Shaolin monks in Fremont,'" he said. "I couldn't believe these guys were the real deal. It's almost like a fantasy to get to train with them."
According to Chinese history, Shaolin monks first gained fame in 698 for helping a future Tang Dynasty emperor defeat a rebellious general. They found themselves in the thick of other political battles over the centuries, but now practice martial arts as a way to stay healthy and build character.
The monastery gained global notoriety with Bruce Lee's kung fu movies, and kung fu masters such as Jet Li continue the tradition.
What separates Shaolin kung fu from other martial arts, Yanran said, is its combination of meditation, Buddhism and fighting skills.
Belts are eschewed and so is competition.
"It's very internal," Yanran said in Chinese. "It's not for showing off."
Yanran's early years in the monastery seem like scenes from "The Karate Kid." The monks ordered him to perform menial tasks with precise movements before they started training him in kung fu.
He became an ordained monk at age 18.
For Shaolin monks like Yanran who specialized in kung fu, days at the monastery started at 4:30 a.m. with morning prayers and exercises. They studied after breakfast, meditated at night and for 3.5 hours every afternoon, they practiced their fighting skills, Yanran said. Bedtime was always 9 p.m.
These days, Yanran and his fellow monks in San Jose are almost as regimented. They're up at 6:30 a.m. for exercise and breakfast. At 8 a.m., it's off to English class. When that lets out, about noon, they go to their schools, where they teach until about 9 p.m. Then it's back to San Jose, where they make dinner and go to bed by 11 p.m.
The monks have made some adjustments to Americanize the discipline. They do award belts, and the classes are focused much more on kung fu than meditation or Buddhism.
"We don't preach Buddhism," Yanran said, adding that their teachings are universal principals that are compatible with the teachings of other religions. "It's up to the student how much they want to accept."
For now, even those students interested in Buddhist meditation will have difficulty learning it from the monks. Since their English is still a work in progress and the meditations involve words that don't easily translate, the monks only teach meditation in Mandarin Chinese.
Eventually, Yanran said, they hope to offer the class in English.
Besides learning English at class and from their students, they have squeezed in enough time to practice by listening to the radio and watching some television, but not enough for Jet Li movies, he said.
"When I have time I still like to watch them, but right now I'm too busy," he said.