Monastic masterpiece
By Nathan Donato-Weinstein, The Press-Tribune, Feb 16, 2008
Sand mandala being created at Royer Park
Roseville, CA (USA) -- A Buddhist invasion by eight Tibetan monks on a world tour is creating quite a buzz around Roseville. In fact, it sounds a little like crickets chirping.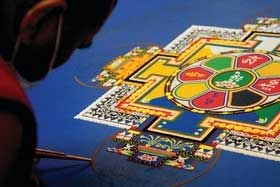 << Pico Van Houtryve/THE PRESS-TRIBUNE
A monk from the Gaden Shartse Monastery in India works on a sand mandala Thursday at Royer Park's Children's Art Center. The monks are in town through Monday as part of a cultural tour and fundraising trip.
The high-pitched rasp has reverberated inside the Children's Art Center at Royer Park since Wednesday, when the group of monks, who hail from the Gaden Shartse Monastery in southern India, began work on a sand mandala, a traditional Tibetan Buddhist painting painstakingly created from brightly colored grains of sand.
The mandala – Sanskrit for "circle" or "completion" – began taking shape earlier this week following an opening ceremony that included the chanting of a mantra to bless and purify the immediate environment.
"It's an ancient art form and at the same time it has a deeper meaning, a more spiritual meaning," said Tsering Dhondup, the monks' translator on their tour, which has taken them throughout the country over the past 15 months.
Tibetan Buddhists "believe in earning merits for yourself in this lifetime," he said. "You can earn merits through the action of your body, such as building a monastery. Making a sand mandala is one of them as well."
And so, armed with chakpus, a traditional funnel that acts as a kind of granular paint brush, and dozens of cups filled with vibrantly dyed sand, the monks set to work Wednesday on a four-foot by four-foot square table, where an outline of the sand mandala had been drawn.
The monks loaded their funnels and hunched over the horizontal canvas, scraping the chakpu along the top with another implement to dispense a thin hairline of vivid color, and filling the room with the squeaky noise of creation.
Through Monday, the monks are leading workshops, holding healings, blessing homes and businesses and generally heightening awareness about Tibetan Buddhism and culture.
That includes the creation of the sand mandala, which is expected to be completed sometime this weekend. The process, and its eventual finished product, is on public view at the park until Monday, when it will be ceremoniously expunged following an explanatory lecture of its symbolism.
The visit is part of a regular tour through the U.S. and other Western nations that raises funds for the monks' home monastery. Money raised goes toward food, housing, and education for the monastery, which houses more than 1,600 students and teachers of Tibetan Buddhism.
And, while it's their first-ever swing through Roseville, they are well known elsewhere in the area.
In Grass Valley, Sierra Friends of Tibet, a local nonprofit dedicated to raising awareness of the country's plight, has organized visits there for the past eight years. They've been visiting local schools so long, some students feel like they've grown up with the monks, organizers said.
"It's something we're all united with up there," said Melanie Sullivan of Sierra Friends of Tibet. "It's a cultural tour, and it gives people a chance to see how beautiful and very exciting a culture is that's based on Buddhist philosophy. But there's no converting going on."
The Roseville visit is being hosted by Cerise LaCore, who runs the Roseville-based holistic health hub called The Center, with help from Sierra Friends of Tibet.
"My thought was to have them come and do a dharma talk," LaCore said, referring to the body of teachings by Buddha. "The next thing I know, they're doing a sand mandala and giving sacred performances."
For the monks, the tours are also a way to bring awareness to the situation in Tibet, which was invaded by China in 1950. The original Gaden Shartse monastery was destroyed in the violence that followed. Like many Tibetans, the survivors of the monastery fled to nearby India, where they established a new home for Buddhist study and meditation.
But their larger message is that of peace, religious understanding and tolerance.
"All their life is confined to the monastery, and whatever knowledge they've gained there, it benefits other people," Dhondup said. "The 21st century is the century of dialogue. We can't solve issues by fighting."
"This is really to promote the message of compassion and acceptance of all peoples," LaCore said.
Sand mandalas can be thought of as visual representations of prayer, and the one being created in Roseville this week venerates the Buddha of compassion, chenrezig.
Monks study years to learn the art form, one of the most venerated in Tibet.
It's believed to have originated in India, and was associated with Tibet sometime during the Middle Ages.
Each mandala contains within its layered and textured form a plethora of religious symbolism, and Tibetan Buddhists believe it gives the viewer a greater understanding and peacefulness.
Wednesday, beneath colorful Tibetan prayer flags that festooned the Children's Art Center, the monks worked from the inside out, three and four at a time. They shielded their breath from the delicate design with surgical masks as the mandala began to take shape over the next several hours, with rarely a break in the rubbing of metal on metal – faster to release more color, slowly for just a trickle – except to reload a chakpu with a new color of sand.
Some mandalas can take weeks to complete; the monks were racing to complete this one in just four days. Of the Bob Ross school of art it is not.
"They work so hard to make the sand mandala, it's very painful for their back," Dhondup said.
But the mandala is not long for this world. In accordance with tradition, the table will be wiped clean Monday, following a dissolution ceremony.
"In Buddhism the concept of impermanence is very important," Dhondup said.
The point, he said, is to know all things are transient. Everything changes.
Still, it can sometimes strike a Western mind as tragic, even after the process is explained.
"I think people gasp," Sullivan said. "It's really hard for them to watch the destruction of a beautiful thing."