Mandala's path of colored sand grows at Chico State
By ALAN SHECKTER, Chico Enterprise Record, Feb 21, 2008
Chico, California (USA) -- Three weeks into a five-week art residency at Chico State University, Tibetan-born Losang Samten continues to construct a vibrantly colored mandala, or sand painting, in the lobby of the Bell Memorial Union.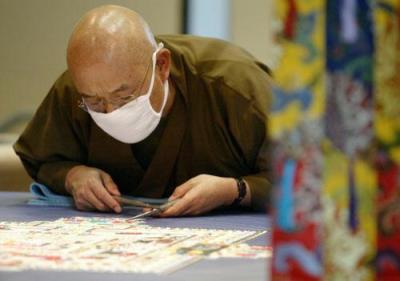 << Losang Samten works on the "Wheel of Time" mandala on Tuesday in the lobby of Chico State University's Bell Memorial Union. The Kalachakra mandala, is intended as a blessing to bring peace and healing to viewers and the environment.(Bill Husa/The Buzz)
The "Wheel of Time" Kalachakra mandala, which will measure 6 feet by 6 feet, is intended as a blessing to bring peace and healing to its viewers and to the environment. Upon its completion, it will be swept up during a closing ceremony at 2 p.m. on March 1.
"People can come up and get some grains of sand to take home to bless their homes," spokeswoman Bejay Moore said. "All the rest (of the sand) will be going into the creek right there at Chico State signifying the impermanence of life."
Under instruction from the Dalai Lama, Samten came to the United States in 1988 to demonstrate the ancient and meditative art of sand painting. Samten, who taught Tibetan language at University of Pennsylvania, has a master's degree in Buddhist philosophy and honorary doctorates in divinity and art.
"The response has been just amazing," Moore said. "Many, many, many people are coming from far and wide to see the sand mandala. ... Schools are sending children and students have been coming from Chico State for class."
Samten's mandala work can be viewed from 10 a.m. to 5 p.m. Tuesdays through Fridays and 11 a.m. to 5 p.m. Saturdays and Sundays through March 1.
Samten will preside over a Tibetan tea ceremony at 6:30 p.m. Friday at Church of Religious Science, 789 Bille Road in Paradise for a suggested donation of $10. He will also be part of a Budd-hist retreat, 10 a.m. to 4 p.m. Sunday at Masonic Family Center, 1110 W. East Ave.
To view a recent E-R feature article about the mandala, visit www.chicoer.com //ci_8213460.
Contact Alan Sheckter at buzz@chicoer.com or 896-7771.