Buddhist Temple invites people of all faiths to 26.2-hour walking meditation marathon
by ERIN RYAN, Idaho Statesman, March 14, 2008
Ontario, Oregon (USA) -- In 13th century Japan, a Buddhist monk named Shinran Shonin undertook a 100-day walking meditation, hoping to achieve enlightenment.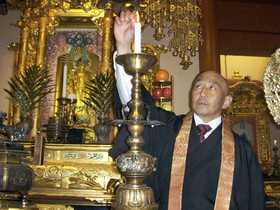 << The Rev. Joshin Dennis Fujimoto lights incense at the main altar table inside the Idaho-Oregon Buddhist Temple in Ontario. He is expecting about 150 people to participate in the temple's 750th memorial celebration of Shinran Shonin, founder of the Jodo-Shinsu branch of Buddhism. The event involves a walking meditation marathon, or 26.2 hours of walking, chanting and pursuing personal awakenings.
More than seven centuries later, The Idaho-Oregon Buddhist Temple in Ontario, Ore., is celebrating his legacy with a 26.2-hour meditation marathon open to all people and based on the theme "Yononaka Annon Nare," or "May Peace and Tranquility Prevail Throughout the World."
From 9 a.m. Saturday to 11:15 a.m. Sunday, the Rev. Joshin Dennis Fujimoto and other members of the temple will lead participants in 20-minute sessions of walking, chanting and reflecting. This is the first time such an event is being held in the United States, and its purpose is threefold.
First, it will mark the 750th memorial of Shonin, who reformed the aristocratic and philosophic practice of Buddhism into a universal spiritual path. Called Jodo-Shinsu or "Shin" Buddhism, it is one of the most widely practiced branches in the world.
Second, it will be a vehicle for teaching about his life and the hardships he endured in gaining and sharing insight with the common man.
Third, it will give people a chance to search their thoughts free of expectation, to explore their own layers of consciousness.
"There are two worlds, the normal world where our egos function and the natural world of truth. Trapped in the normal world, we can awaken in glimpses to that natural reality and the harmony and peace that is natural to all things," Fujimoto said. "If you are aware of your connections to all of reality, it should be a natural thing that your ego dissipates and you see your connectedness to everything around you."
While many marathon participants are familiar with the pillars and practice of Buddhism, Fujimoto said no experience is required.
Walkers will take steps with each chanted syllable of the mantra, "Na-Man-Da-Bu," which means "calling the name of Amida Buddha." He is the historical Buddha who first achieved Nirvana, or freedom from individual suffering and existence. He also represents acknowledgment of reality.
"We will be recognizing Amida Buddha not as a deity, but as a symbol of truth," Fujimoto said, adding that area church leaders and congregants from Catholic to Methodist are planning to attend.
Sharmon Sabamori, a minister's assistant raised in the Ontario temple, said: "Everyone will walk away with a different experience. Some will be coming for loved ones they've lost. There is a lot of grief in that, but grief is a process. Accepting an illness is a process, and accepting our goodness is a process as well. You might come out feeling more calm, connected, perplexed, curious. Maybe you'll find something scary or something that's 'aha!' All of this can happen."
Sabamori's Japanese grandfather was a devout Buddhist, and though she looked into other religions, she returned to Jodo-Shinsu for its focus on compassion, gratitude and acceptance.
Sabamori says these principles belong to all people and that meditation can facilitate their practice, to whatever end.
"Meditation helps us find our connections and interconnectedness with others and all the causes and conditions that have brought us to this moment to breathe, feel, sense and appreciate," she said. "We can put all these kinds of thoughts into people's heads, but they get it when they get it. So this is an opportunity."
Additional Information

WHAT
Walking meditation marathon honoring Jodo-Shinsu Buddhism founder, Shinran Shonin.
WHEN
9 a.m. Saturday-11:15 a.m. Sunday, with an opening service at 8:30 a.m. Saturday and an Ohigan family service after the marathon ends Sunday.
WHERE
Idaho-Oregon Buddhist Temple, 286 S.E. 4th St., Ontario, Ore.
DETAILS
Five services will be held during the event. Participants are invited to sign up for walking shifts, though it is not required. Refreshments will be available.
CONTACT
The Rev. Joshin Dennis Fujimoto at 707-2021.
BY ERIN RYAN - eryan@idahostatesman.com
Edition Date: 03/14/08